The Rochester school board last night approved a plan from the University of Rochester to partner with East High School with the goal of dramatically improving student performance at East.
The vote was 6 to 0, with board member Melisza Campos absent. The plan, which allows the UR to take over the management of East starting in July 2015, still has to be approved by the State Education Department.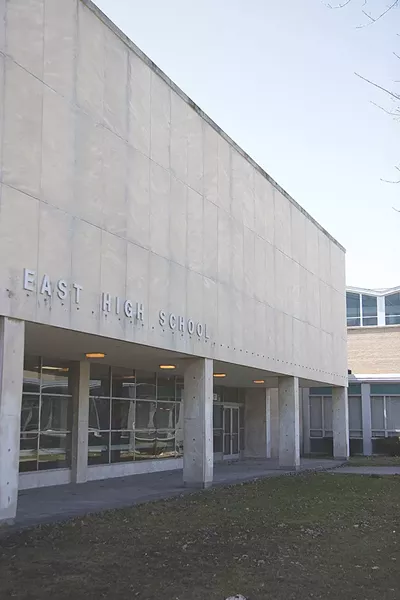 FILE PHOTO
East High School
The UR envisions East as a smaller, neighborhood-oriented school that separates grades 6 to 8 from 9 to 12, and places special emphasis on added support for 9th graders. The new East will have a longer school day and an intense focus on reading and math literacy. The school will also draw heavily on the UR's resources, such as career development in areas such as health care.
But the plan also included some tense last-minute negotiations. All four of the district's unions had to agree to the plan before submission to the SED for final approval. And the school board and East's teachers were still hammering out their differences this week. The hold up: extra compensation for East's teachers.
In the general contract between the district and Rochester Teachers Association, teachers normally teach five classes and work seven hours a day. But under the UR's management, East's teachers will be required to teach six classes and work for an extra hour. And they will be paid $55 for that extra hour of work instead of the usual $37.
But RTA president Adam Urbanski says that East's teachers are agreeing to take on a lot more responsibility, too. Each teacher will be required to "adopt" and mentor a family of eight to 10 students. They will also be required to attend mandatory professional development classes at the discretion of the UR, Urbanski says, and they will lose about an hour of planning and preparation time daily.
Teachers will most likely have to make up for that lost time during the evening and on weekends, says Kyle Crandall, one of the eight union representatives at East who helped negotiate the agreement.
Under the plan, all East employees will have to reapply for their jobs. And Steve Uebbing, UR Warner School professor, told school board members in an earlier presentation this week that those interviews will be rigorous.
Although East's teachers have agreed to the UR arrangement, they will formally vote on the plan when they return from vacation in January, Crandall says.
"We're excited and hopeful to working with the UR," he says. "From the beginning, we definitely wanted to reach an agreement that was in the best interest of students and fair to teachers. And we think we have that."
The arrangement between East and the UR is being carefully watched by teachers and principals throughout the district, and there are some skeptics. Critics say that the plan is going to cost a lot; an exact budget hasn't been finalized. And they say that there are a lot of city schools that would like to have the support and added resources that East will be receiving.
"City schools have had varying degrees of support and East was on the bad end of that for many years," says Van White, school board president. "That was a historic wrong and we're going to rectify that. We have to start somewhere to show the state and other districts that this is what it takes. This could be the model."