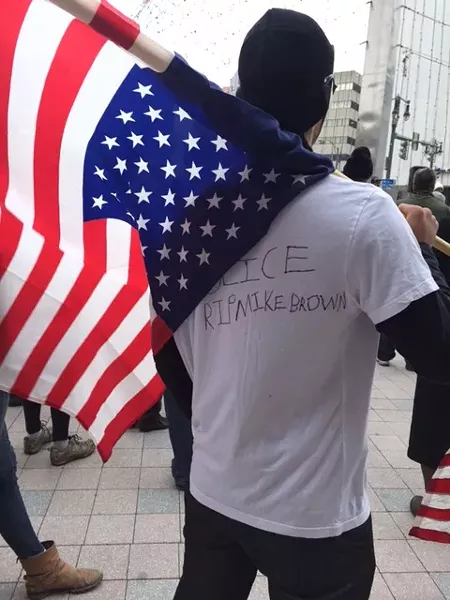 PHOTO BY CHRISTINE CARRIE FIEN
Community activists rallied at the Liberty Pole on Sunday. Protests have been taking place nationwide after the August shooting of black teenager Michael Brown in Missouri by a white police officer.
Local activist groups and members of the community came together at the Liberty Pole on Sunday to rally and march against police brutality and systemic racism. The event took place in the aftermath of the controversial decision by a grand jury in Ferguson, Missouri, not to indict police officer Darren Wilson for the shooting death of unarmed black teenager Michael Brown.
Protests and other actions have been happening across the country and internationally. Ferguson itself has been in turmoil since the August shooting.
Rochester's action was peaceful and featured speeches and songs. Names of people of color who died after encounters with the police were read and repeated.
One speaker said that more than speeches and rallies are needed. People must build a community, he said, and come together before incidents like the Michael Brown shooting happen.
"We're all here together," he said. "We need to say together like this."