UPDATE: 2 p.m., Tuesday, November 25: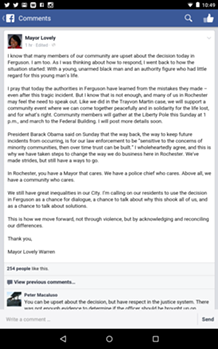 A screen capture of Mayor Lovely Warren's original Facebook post regarding the Ferguson decision.
Warren responds to criticism of her Facebook post:
Rochester Mayor Lovely Warren says that she was not singling out Ferguson Police Officer Darren Wilson in a controversial Facebook she made earlier this week (The post appears to have been taken down as of Wednesday morning.) Warren's post went up shortly after a grand jury declined to indict Wilson, a white officer, in the shooting death of unarmed black teenager Michael Brown.
In a lengthy post, Warren says that, "As I was thinking about how to respond, I went back to how the situation started: With a young, unarmed black man and an authority figure who had little regard for this young man's life."
The replies to her post range from praise to accusations of race-baiting. Warren says that she was talking about a flawed grand jury process, and not about Wilson.
Rochester has a long history of advocating for social justice, Warren says, and the situation in Ferguson is "a teachable moment."
"Our legacy has been about embracing those tough issues, talking about them, and doing something about them," she says. "So I'm hopeful we'll be able to do that here."
Asked what she would tell her young daughter about Ferguson, Warren says she'd tell her to make up her own mind, and to stand for what she believes is right, "even if you're standing by yourself."
Local press conference on Ferguson decision:

PHOTO BY JOHN SCHLIA
The United Christian Leadership Ministry and Coalition for Police Reform held a press conference Tuesday on the grand jury decision involving the police shooting of Michael Brown in Ferguson, Missouri. The press conference took place at the Downtown United Presbyterian Church.
ORIGINAL BLOG:
A grand jury has decided that Ferguson, Missouri, police officer Darren Wilson should not face any charges for shooting and killing Michael Brown, an unarmed black teenager.
In a press conference just now, St. Louis prosecuting attorney Robert McCullough said that there is no question that Wilson shot and killed Brown, but that the question was whether he used authorized force or acted in self-defense. He said the grand jury is the only group who heard from all witnesses in the case and reviewed every piece of evidence, and that it found no probable cause to file any charge against Wilson.
Today, at least two local groups will hold events to respond to the decision:
The Coalition for Police Reform will hold a press conference at 10:15 a.m. at Downtown Presbyterian Church, 121 North Fitzhugh Street;

Another group — it's not clear who — is organizing a demonstration at 4:30 p.m. Tuesday at the Elmwood Avenue entrance to the University of Rochester. Similar actions are planned at the same time at RIT and Nazareth College.