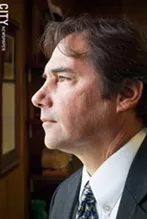 PHOTO BY MARK CHAMBERLIN
Mark Assini.
Oh, OK. According to the New Yorker,
we're already on to talking about what Republicans' victory speeches really meant.
But let's a step back for a second and take a look at the Mark Assini-Louise Slaughter race. As of this moment, we're still not sure who won.
It may come down to absentee ballots
, but we don't know how many are out there, exactly, and when they'll be counted. About 600 votes separate Assini-Slaughter right now.
Confession: I am one of the ones who believed that Slaughter was unbeatable. Her charm, savvy, intelligence, and all-too-rare candor, all simmering in that accent — a sweet Kentucky kick — is a devastating blend.
So what's happening? My take: certainly, the anti-Obama mood of the country was bad news for Slaughter, and for Democrats in general. And Slaughter never tried to tone down her liberalism — her support for the Affordable Care Act is unwavering, for example — which is admirable from an ethical point of view but maybe hurt her politically this time around.
And Assini, who is supervisor of the Town of Gates, is an unknown figure nationally. He doesn't have the baggage that accompanies Maggie Brooks everywhere she goes. (Slaughter beat Brooks handily the last time around. Many thought the Brooks race would be the race of Slaughter's career.)
Assini wins either way the absentee ballots shake out. Last night catapulted him into the spotlight and he's certainly a viable candidate for any number of offices. County Executive Assini, perhaps?
Slaughter, I don't know. She's in her 80's sure, but that doesn't mean she's about to go gentle into that good night. People have been predicting her retirement – forced or otherwise – for years. But if she decides it is time to leave public office behind, who can we expect to take her place? Well, there are those rumors about Rochester Mayor Lovely Warren running for Congress.