An update appears at the bottom of the story.
The Rochester school board heard from more than two dozen students, teachers, and principals last night who came to protest Superintendent Bolgen Vargas's decision to remove Monroe High School Principal Armando Ramirez from his post.
In a packed room, board members listened to students and teachers describe Ramirez as the catalyst for improvements at Monroe during his short tenure at the school.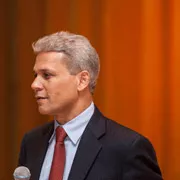 FILE PHOTO
Rochester schools Superintendent Bolgen Vargas.
"I beg you, please do not replace my principal," an emotional Heidi Robles, a senior at Monroe, said. "He's been like a father to us."
Vargas planned to replace Ramirez, who has been principal at Monroe since 2012, with Barbara Zelazny from the Avon school district. But after deliberating in executive session for about an hour, board President Van White said that while Zelazny would be hired, she would not be Monroe's principal.
The decision was not a victory for Ramirez or his supporters, however. Vargas said he would continue to look for new leadership for Monroe.
Much of the tension at last night's meeting stemmed from how Ramirez learned he was being replaced. A resolution seeking board approval to hire Zelazny appeared on the district's website earlier in the week. Ramirez said last night that Vargas did not inform him until yesterday afternoon of his decision to remove him from Monroe.
When district spokesperson Chip Partner was asked if the allegation was true, he said, "I can't comment on that."
There were also contradictory views of how much Monroe has improved under Ramirez's leadership. The school has been on the State Education Department's list of schools in need of improvement, and there has been rampant speculation that Monroe was in a situation similar to East High School; that Vargas would soon receive orders from the SED to make major administrative changes to improve the school.
Some indicators show that Ramirez is making progress. For example, the school's August graduation rate in 2012 was 29.2 percent. In 2013, the rate climbed to 42.4 percent — an increase of about 45 percent.
But Vargas zeroed-in on the fact that the grad rate for Latino students has been stuck at 27 percent for two consecutive years.
Several speakers last night used the dueling data to criticize Vargas's management style, the school board, and the SED, saying that expectations to turn around problem schools such as Monroe within a few years are unrealistic. And the chronic changes in school leadership only add to instability and confusion, they said. Some schools such as Monroe have had frequent turnover of principals.
And the principals and teachers pointed out that Ramirez was granted tenure not long ago, and that he has been publicly lauded by Vargas and State Education Commissioner John King .
The meeting also drew some of Rochester's Latino community leaders; Monroe has a large Latino student population. City Council member Jackie Ortiz and former City Commissioner Julio Vazquez attended the meeting. Though neither spoke on behalf of Ramirez, Vazquez was visibly concerned by some of the comments.
Though Vargas apologized to Ramirez at last night's meeting for the manner in which his removal was communicated, the growing opposition to Vargas from administrators and principals is palpable. And it resembles in some ways the opposition that teachers developed toward former Superintendent Jean-Claude Brizard.
Some of the harshest criticism last night came from a defiant Anibal Soler, the principal at East High School. He said that speaking out against Vargas often results in retaliation.
Sandy Jordan, the former principal of All City High and now president of the Association of Supervisors and Administrators of Rochester — the union that represents administrators and principals — said she hoped that the decision to remove Ramirez from Monroe was not retaliation for the union's vote of no confidence in Vargas earlier this year. And she said that ineffective communication, such as the way Ramirez was told he was out of a job, is the union's main complaint about Vargas's leadership.
Update, Monday, July 28: Superintendent Bolgen Vargas has selected Vicma "Vicky" Ramos as the new principal of Monroe High School. Ramos, who starts the job next month, will replace Ramirez. Ramos is the district's executive director of the student placement and school operations, but she was principal of Monroe from 2009 to 2012.
There's no word yet on where Ramirez or newly hired Barbara Zelazny from Avon will end up.