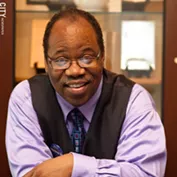 FILE PHOTO
Van White.
Rochester school board President Van White has asked Superintendent Bolgen Vargas to be prepared to submit his plan to improve East High School on Thursday, May 15. That's the deadline Vargas has been given by the State Education Department to submit a plan to "fix" the failing school.
Although the school board has voted to partner with the University of Rochester on East High — based on a letter of intent submitted by the UR, not a full proposal — White says he wants the Vargas plan ready to go as a backup. Vargas's plan splits East into three smaller schools, all with a focus on career readiness.
The UR wants more time to prepare a comprehensive plan for East, and the school board has asked the SED for an extension beyond May 15. But with roughly 48 hours to go before the deadline, there's been no word from the department.
White says the board will not be put in a position again where it has a matter of days to answer the department's demands for a school turnaround plan. He's working with Vargas and the SED on what he's calling a pipeline report that indicates the next schools that will likely be targeted for turnaround by the State Education Department.
And he says he wants to come up with a process, based in part on the experience with East, for developing an effective school improvement plan.
"I don't want us to be put in this same situation again, looking down the barrel of a gun," White says.