PHOTO BY JEREMY MOULE
The Golisano Institute of Sustainability building at RIT. The three tall contraptions in front of the building are vertical axis wind turbines.
When Rochester Institute of Technology built its
Golisano Institute for Sustainability
, school officials said they wanted to set an example. The building would house a young program with a mission of incorporating environmental principles into industry and corporate decision-making. And officials said they wanted its home to embody the same mindset.
The result: a building that's been certified LEED Platinum by the US Green Building Council.
LEED is a certification program
for so-called green buildings. A construction project gets points for incorporating energy- and water-conserving features and technologies; for using recycled materials and minimizing construction waste; and for using locally-sourced or environmentally preferable materials inside and out. Platinum is the highest LEED certification level a building can achieve.
RIT held an event this morning to announce the certification. Tracie Hall, executive director of the US Green Building Council's upstate New York chapter, said the Golisano Institute for Sustainability building is among the top 1 percent, performance-wise, of all LEED-certified projects.
But a few of the event's speakers pointed to another critical aspect of the building: it's educational potential. It is a college campus building, after all. The building, which has its own energy grid and alternative energy systems, is one big lab, speakers said. The students will learn from the projects and experiments happening in the building and they'll take that knowledge out into the world, they said.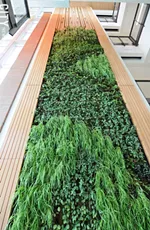 PHOTO BY JEREMY MOULE
A green wall in the Golisano Institute for Sustainability building improves the facility's indoor air quality.
The Golisano Institute for Sustainability isn't the first local project to get top-level LEED certification. The Monroe County Crime Lab in the City of Rochester is also LEED Platinum certified, for example. But I went to this morning's announcement at RIT because I was curious: What makes a college campus building one of the most efficient buildings in the country?
The building looks like a segmented glass box with orange or brick corners, and there's quite a bit happening in, on, around, and under it. For starters, the vast amount of glass in the exterior amounts to more than window space. RIT staff prepared a sort of
dossier on the building's many features
, and here's how it explains the glass:
"The building exterior is made up of several varieties of glass that allow daylight to enter with minimal heat exchange. The opaque panels have an insulation value comparable to masonry walls. Windows feature a coating that conducts electricity so that the glass can be heated to room temperature when the room is occupied, eliminating the need for baseboard heating. Transparent, heat-mirror glass outperforms conventional triple-pane glass and is thinner, lighter and less expensive to install."
The building also has a shade system on its south side which lets light in without causing the building to heat up.
PHOTO BY JEREMY MOULE
The parking lot outside of the sustainability institute's building has two electric vehicle charging stations.
The building's solar cells, vertical-axis wind turbines (they look less like fans and more like food processor blades), and fuel cells generate so much electricity that often its needs are met and there's enough power left over for other campus buildings, said Nabil Nasr, sustainability institute director.
And there are a slew of other features, some as mundane as low-flow water fixtures, but some as clever as an elevator that generates electricity on its descent.
And during construction of the building, 80 percent of the waste materials were diverted from landfills and reused or recycled.