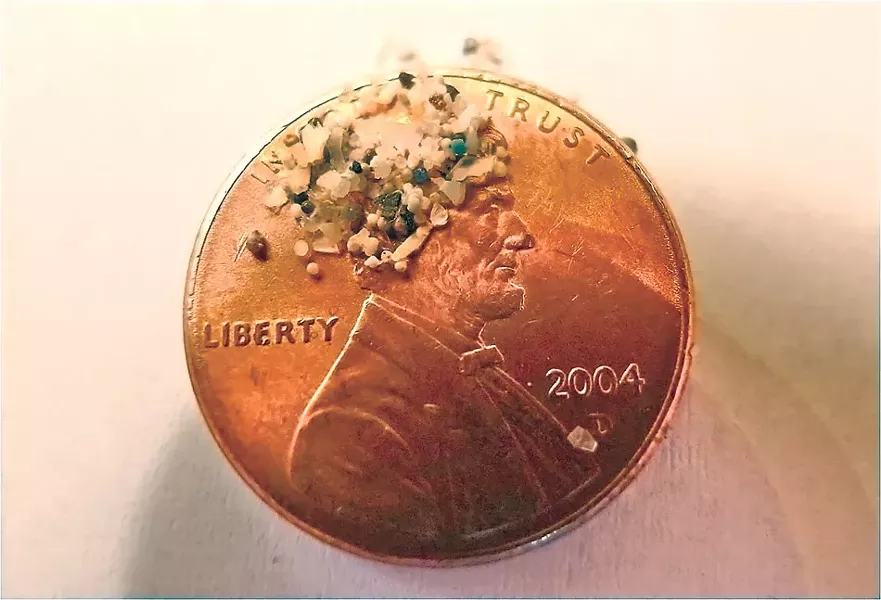 PROVIDED PHOTO
Plastic microbeads as compared to a penny.
New legislation headed for the state Assembly could ban personal care and hygiene products that contain tiny plastic beads, commonly known as microbeads.
Attorney General Eric Schneiderman's office announced the legislation in a press release today, though Assembly member Robert Sweeney is introducing and sponsoring it. Sweeney is chair of the Assembly's Environmental Conservation Committee.
According to the press release, the legislation would prohibit the manufacture, distribution, and sale of products containing microbeads within New York. Common products containing the beads include exfoliating face washes, shampoo, and toothpaste.
Researchers
point to microbeads as an emerging issue in the Great Lakes, including Erie and Ontario. In fact, research shows that Ontario and Erie may high the highest concentration of plastics pollution — including microbeads — of any of the Great Lakes. The plastic beads are so small that waste water treatment plants don't filter them out and instead discharge them into water bodies along with treated water.
The scientists studying microbead and plastics pollution in the lakes worry that the fragments are being ingested by fish, birds, and other aquatic life. Certain pollutants, including pesticides, tend to attach to the tiny plastic fragments, so if fish and other animals ingest the beads, the chemicals may build up in animals' bodies.