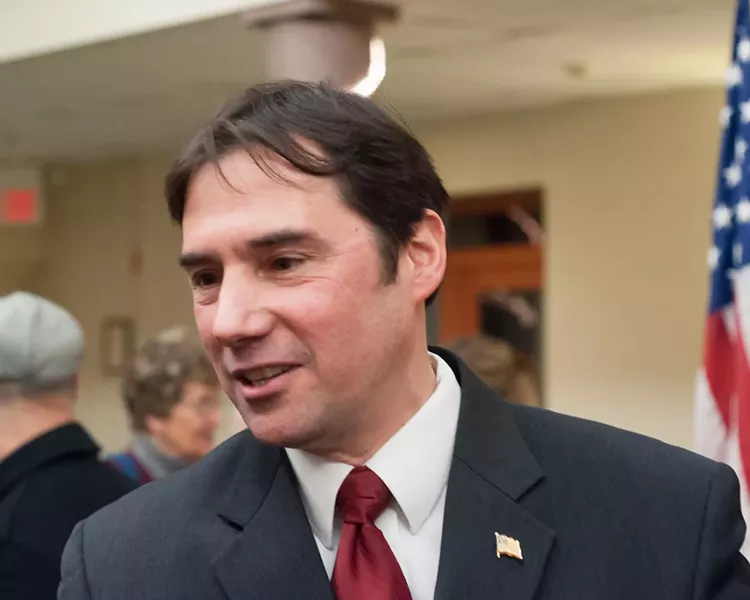 PHOTO BY JEREMY MOULE
Republican Mark Assini plans to challenge Democrat Louise Slaughter for the 25th Congressional District seat.
Gates Supervisor Mark Assini, a Republican, officially announced his candidacy for the 25th Congressional District last night. And in a somewhat subtle way, Democrat Louise Slaughter confirmed she'll be running for re-election.
Just before the start of Assini's 5:30 p.m. announcement at the Italian American Community Center in Gates, Slaughter's campaign office sent out this statement:
"Monroe County has sent Louise Slaughter to Congress because she's a tough fighter who delivers results for the constituents she is proud to represent. Upstate New York has a tradition of rejecting Tea Party politics and electing trustworthy leaders like Louise who work hard to rebuild our region's economy. We look forward to discussing our region's future, and to earning each and every vote."
Assini, who took the podium to a standing ovation, announced his candidacy to a room filled with key Republicans, including current legislators, Republican town supervisors, county Republican Party chair Bill Reilich and County Executive Maggie Brooks. After telling the crowd a little bit about his family history — his grandfather immigrated to the United States from Italy and was able work hard, earn a law degree, and help people in Gates — he set the tone for his upcoming campaign.
"Washington is broken, there's no doubt about it," Assini told the crowd. "There's no collaboration, no compromise."
Change, he said, won't happen without replacing the people in Congress who have caused the gridlock and who have failed to compromise.
Speaking to media later, Assini portrayed himself as someone who believes in working across party lines. It doesn't matter whether an idea comes form a Democrat or Republican, he said — if it's a good idea, it should be explored.
Assini said he worked with Syracuse Mayor Stephanie Miner, co-chair of the state Democratic Party, to make sure a pension proposal floated last year by the governor didn't get off the ground.
Assini said that unlike other Republicans, he's willing to entertain changes to the Affordable Care Act, and he said that Congress ought to be looking at the Canadian and British systems to see what's worked in those countries.
But Assini is attempting to do something that 13 other Republicans haven't failed to do: beat Slaughter. Two years ago, County Executive Maggie Brooks, arguably one of the most popular local Republicans, lost to Slaughter by about 15 percentage points. But Assini said that voters are more frustrated with Congress than they were then. The fact that President Obama was running for re-election in 2012 also helped Slaughter, he said.
"It's a different race and a different time, Assini said.
Another candidate, Tim Dean, plans to run for the 25th District seat. Dean's
website
doesn't say what party he's enrolled in, though he refers to himself as an "Independent."