Governor Andrew Cuomo
will present his
2014-15 state budget proposal
at 2 p.m. on Tuesday. The presentation will be streamed at
governor.ny.gov.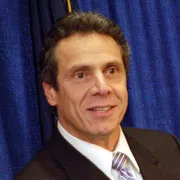 FILE PHOTO
Governor Andrew Cuomo.
The budget will likely follow the agenda that Cuomo laid out in his January 8 State of the State address. His goals for the year include various tax cuts and a publicly-funded campaign finance system.
Cuomo's previous pushes for
campaign finance reform
have been blocked by Senate Republican leaders who oppose using taxpayer funds for elections. And it doesn't appear that they've changed their minds either. A
New York Times article
published today notes that
Republican leader Dean Skelos
said earlier this month that tax money would be better spent on infrastructure, schools, or tax cuts.
As for the tax cuts, Cuomo is talking about cutting corporate taxes, eliminating income tax for upstate manufacturing companies, and offering property tax credits for businesses and homeowners.
But some officials and observers are skeptical of Cuomo's plans, since they rely on state government's ability to turn a projected budget gap into a surplus. An
article in this morning's Democrat and Chronicle
says that state budget documents estimate a $3 billion deficit in three years. But Cuomo plans for the budget to have a $2 billion surplus at that point.
Kirk Morris
is expected to resign his
4th Ward seat on the Greece Town Board
on Tuesday night.
Last week,
Greece Supervisor Bill Reilich
announced that he's appointed Morris to serve as the town's new commissioner of public works.
Morris was just re-elected to his seat this past November. But he can't simultaneously serve on the Town Board and hold a job in town government.
A
press release
announcing Morris's appointment doesn't say when the board will appoint his replacement. Whoever is appointed will have to run for the seat in November.
Jeremy Moule
The
South Wedge Planning Committee
will hold its
annual membership meeting
, "Wedge Me In," from 6 p.m. to 9 p.m. on Friday, January 24, at 224 Mount Hope Avenue.
The meeting is an opportunity for Wedge residents to meet committee staff and board members. There will also be raffles, food, and other activities. More information: 256-1740.
Christine Carrie Fien