A forum on police-community relations
will be held at 6:30 p.m. on Thursday, October 24, at the Faith Temple Apostolic Church, 141 Arnett Boulevard. The forum is sponsored by the United Christian Leadership Ministry of Western New York, the Interdenominational Ministerial Alliance, and the NAACP.
Monroe County District Attorney Sandra Doorley has been asked to attend. Police Chief James Sheppard, Mayor Tom Richards, and members of City Council are also invited.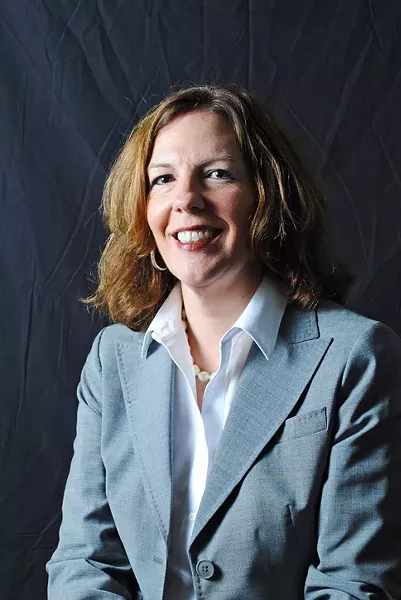 FILE PHOTO
Monroe County DA Sandra Doorley.
According to a press release, the forum will include help "to survive a negative encounter with the police" and "a call to dealing with violence" in the community.
Morgan Management's proposal to build a 99-unit apartment building at 933 University Avenue
will be heard by the city's Planning Commission tonight. The site is in the
East Avenue Preservation District
.
The controversial project has been through several design revisions. Originally, Morgan planned to demolish the 1920's house on the northeast corner of the property, and the city seldom grants permission to demolish a structure in a preservation district. Morgan now says that it's willing to save the original house and provide space in it for the building's current owner, the
Monroe Voiture veterans group.
The
Planning Commission
meeting begins at 6:30 p.m. in City Council chambers at City Hall, 30 Church Street. There are several items on the agenda. If the commission signs off, the project goes back to the Preservation Board for final approval.
Christine Carrie Fien
The Rochester school board
will hold its monthly business meeting at 6 p.m. on Tuesday, October 22.The board's monthly meetings are usually held on Thursdays, but the board changed the date this week to accommodate those members who plan to attend a special School Board Association conference.
The meeting will be held at the district's central office at 131 West Broad Street.
Tim Louis Macaluso