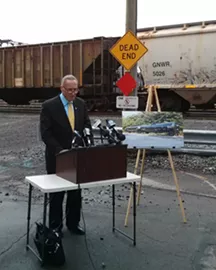 PHOTO BY JEREMY MOULE
Senator Chuck Schumer wants railroad and oil companies to stop using a tanker car model that has a poor safety record.
In 2009, approximately 30 railroad cars per day were shipping oil or ethanol across the United States, but that figure has grown substantially over the last few years, according to Senator Chuck Schumer.
Approximately 200 to 300 of the cars pass through Rochester on the CSX freight line each day, Schumer said today during a press conference set against the Rochester CSX train yard. CSX freight lines pass through urban centers across upstate, he said.
Schumer's issue isn't with the increasing number of trains carrying oil and ethanol. He said that growth is due largely to increases in domestic oil production; the country's pipelines don't have the capacity to move it all. Rather, he wants the rail and energy companies to stop using a specific type of tanker known as DOT-111. He said he's asked the Federal Railway Administration to develop requirements for train and oil companies to upgrade or replace the tanker cars, at least for use hauling flammable or combustible materials.
The tankers have serious design flaws that cause them to tear apart if they derail, Schumer said. The DOT-111 tankers were involved in the Lac-Megantic, Quebec, disaster, where a train carrying crude oil derailed and the contents exploded, killing dozens of people and destroying just as many buildings. They have also been implicated in other derailment-related spills and explosions.
PHOTO BY JEREMY MOULE
Though it wasn't hauling oil (the side of the car says it was hauling sodium hydroxide), this is what a DOT-111 car looks like. This one was hitched to a train in CSX's Rochester train yard.
An Associated Press
article details the issue and says a 1991 safety study identified problems with the cars. So while Schumer says that the increase in oil being shipped on rail cars makes the tankers' safety a new issue, it really isn't. The problems have been known for a long time.
Oil companies, which lease the cars on a long-term basis, have been making record profits and can afford to upgrade or replace the tankers, Schumer said. He also said the cars could instead be used to haul other non-combustible products, such as corn syrup or canola oil.
Speaking at the press conference, Mayor Tom Richards said the issue of the tankers' safety is a national issue that needs to be addressed.
"If something were to happen here it would be devastating," Richards said.