Updated Monday, May 13, at 3:20 p.m.
The Planning Commission will not be taking up the application for the proposed University Avenue complex during its May 20 meeting. The Preservation board will instead make its recommendation during its regularly scheduled June 5 meeting, and the application will go before the Planning Commission on June 17, according to Peter Siegrist, city preservation planner. Original story:
The City of Rochester Planning Commission may not take up the controversial application for a University Avenue apartment complex on May 20, after all.
The commission had been scheduled to consider Morgan Management's controversial proposal for a 102-unit apartment development at 933 University, in the East Avenue Preservation District. The proposal is opposed by the Eastman House, the neighborhood association, and others who say the project is too big and inappropriate for the preservation district.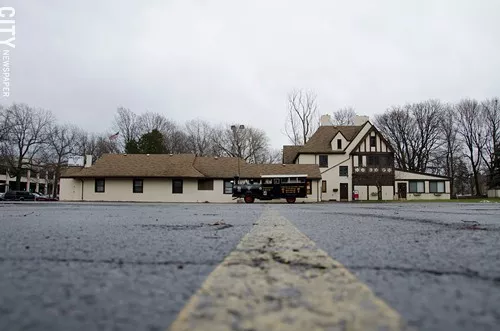 The veterans club at 933 University Avenue.
The city's Preservation Board held an initial meeting on the project Wednesday night. In a phone interview earlier today, city preservation planner Peter Siegrist said that board members received a slew of last-minute documents and letters hours before the Wednesday meeting, and they didn't have time to review those materials.
City attorneys are now determining whether board members, after reviewing the new material, are required to have another public meeting — and whether there is enough time to have it before the Planning Commission's May 20 meeting. Siegrist sounded doubtful today.

The University Avenue site is home to the Monroe Voiture veterans group and is next door to the historic home of Rochester's biggest celebrity, George Eastman. Morgan Management wants to demolish the existing building, the vets 1920's Tudor-style stucco home, to construct the apartments and a new building for the veterans.

Adding to the fireworks, the folks at the Eastman House have expressed interest in the property, too.
Siegrist began Wednesday night's meeting by reminding residents and neighborhood leaders that the board's job is to determine whether the project would have an environmental impact on the area's historic resources.
"Before the Planning Commission can take this case, they have to have this environmental impact statement from the Preservation Board," Siegrist said.
If the Preservation Board decides that is that there is an impact, "Morgan would then have to take a hard look to determine how they could mitigate the impact," Siegrist said.
Project supporters say that the characteristics of University Avenue are quite different from those of East Avenue. They said that like Monroe Avenue, University was intentionally planned for increased density with residential properties interspersed between clusters of commercial properties. And they pointed out that apartment complexes already exist on University Avenue.
The problem for the city,is unusual because five to 10 years ago, no one was interested in the University Avenue property, Siegrist said. But the investment in ArtWalk and the Memorial Art Gallery have made it a desirable location, he said.