Elected officials are finding it easier and easier to get behind active transportation initiatives. As she spoke to the audience at yesterday's Genesee-Finger Lakes Active Transportation Summit, Monroe County Executive Maggie Brooks ticked off the reasons why, including economic and community health benefits.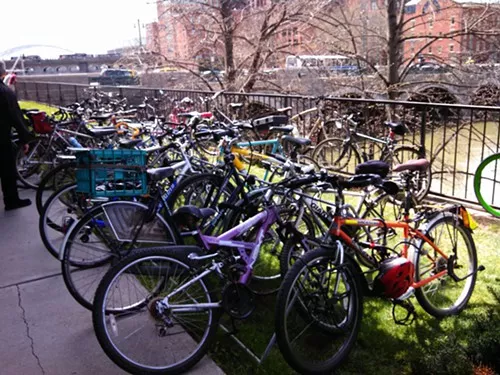 This is what parking looks like at an active transportation summit.
But she also pointed out that active transportation initiatives, from creating bike lanes to making sure sidewalks have curb cuts at crosswalks, are politically popular. Many different constituencies have made active transportation — biking, walking, and other human-powered ways of getting around — a priority, Brooks said. And that's true. Parents of school-age children, some government agency staff, competitive and recreational cyclists, environmentalists, and the AARP are just some of the groups embracing active transportation initiatives and infrastructure.
"At the end of the day, we listen to you," Brooks said. "And that's our job."
Brooks told the crowd that the county's Transportation Department has been working with members of the Rochester Cycling Alliance to make sure road projects incorporate bike-friendly features. And the department has given the alliance advice on how their advocacy could help the county accomplish their mutual goals, she said.
Brooks also said the county will complete a major active transportation initiative this year: it'll finish installing countdown crosswalk signals on county roads. It's a federal mandate, but it's something officials wanted to do anyway, she said.