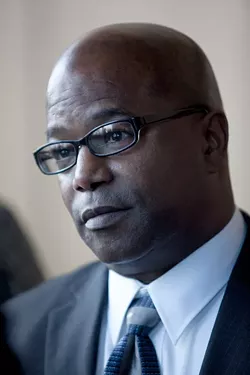 RPD Chief James Sheppard.
Rochester Mayor Tom Richards and Police Chief James Sheppard kick off a quartet of community forums on violence in the city. Rochester and cities across the country have experienced a significant uptick in violent crime this year, including homicides.
Richards says the forums are a chance to hear from a broad spectrum of the community, and that they allow for back-and-forth between parties — an opportunity that doesn't exist at City Council meetings, for example. Richards cites new regulations on corner stores as an example of what can come out of public outreach.
"That took a neighborhood conversation — that's still going on — because some of the [corner stores] are good," he says.
Citizens attending the forums are asked to discuss violence under four broad categories: open-air drug sales and drug houses; gangs, guns, and culture of violence; bullying and truancy; and house parties.
This week's meeting is from 6 p.m. to 8 p.m. on Tuesday, December 11, at the Frederick Douglass Resource Center, 36 King Street. There are more meetings scheduled in January and February. Christine Carrie Fien
The Legislature will vote on County Executive Maggie Brooks's budget proposal this week.
On Tuesday night, the Monroe County Legislature will vote on County Executive Maggie Brooks's proposed 2013 budget.
The $1.2 billion spending plan keeps the property tax rate flat, but adds a fee for snow and ice removal in the suburbs. And it includes chargebacks to fund $550,000 to $750,000 in indigent burial expenses. Democrats say the chargebacks are hidden tax increases.
The county's contribution to Monroe Community College is increasing by $500,000 this year. Several years ago, the county implemented chargebacks to fund its MCC contribution.
During Tuesday's meeting, legislators will also vote on a package of borrowing resolutions to fund projects and purchases in 2013. Included is a resolution to bond for expenses related to MCC's downtown campus. The college's board wants to buy several Kodak buildings on State Street and relocate the campus there. But Mayor Tom Richards wants the campus to stay in the Sibley building on East Main Street, and Lej Democrats seemed to be backing the mayor.
Last week, however, Richards threw his support behind the bond because the resolution does not mention a specific site: Kodak or the Sibley building.
I asked several Democratic legislators if, in light of Richards' support, they'd now support the bond. They either said that they would, or are likely to. But none were in a position to speak for the full Democratic caucus, they said. Jeremy Moule

Got questions? Here's your chance to interrogate RCSD Superintendent Bolgen Vargas.
There will be two opportunities this week for public comment on Rochester schools Superintendent Bolgen Vargas's draft proposal to modernize city schools.
The first will be a Coffee and Conversation with Vargas at 7 a.m. on Thursday, December 13. The second opportunity will be during the Rochester school board's monthly business meeting at 6:30 p.m. on Thursday, December 13. (The meeting is a week early because of the holidays). No vote will take place.
Both meetings are at the district's central office, 131 West Broad Street. Tim Louis Macaluso