Analysis and insight from City news staff, updated throughout the day on Wednesday.
Tom Richards for Congress?
[2:53 p.m.] Almost neglected to mention that Channel 13's anchors were speculating last night about a possible Tom Richards bid for Congress, should Louise Slaughter ever get tired of serving. That gave me a chuckle, since Rochester had to practically beg-force Richards to run for mayor. But I'm ready to be wrong. Another name tossed out: Lt. Governor Bob Duffy. That speculation is nothing new; Duffy has long been rumored as a Slaughter replacement.
[12:55 p.m.] Collins win isn't a total loss for Democrats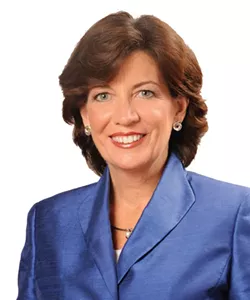 Incumbent Democrat Kathy Hochul lost her House race to Republican Chris Collins.
Democratic Representative Kathy Hochul didn't survive her challenge from Republican Chris Collins, but her loss isn't all bad news for Democrats.
The Buffalo News reports that Collins won with 50.7 percent of the votes cast yesterday to Hochul's 49.3 percent. That's an incredibly thin margin and, for a Democrat running in the most Republican district in New York, a heck of a performance.
Hochul had already proved that Democrats could win the district: she defeated Republican Jane Corwin to win the seat in a 2011 special election — Medicare played a major role in that race. This time, the presidential election brought more people to the polls. Hochul and Collins waged aggressive campaigns, with plenty of negative television ads. Clearly, each candidate's message resonated with district voters.
It may be tough to pinpoint what ultimately tipped the scales for Collins. Obamacare wasn't polling well in the district, and Collins supports repealing it. Free trade, agricultural issues, abortion rights, and federal spending also came up during campaign.
The seat will be up again in two years, and Democrats should make a proper run at it. On paper, the district is a tough win. But Hochul has shown her party that it can be done.

[10:37 a.m.] State Senate control still not settled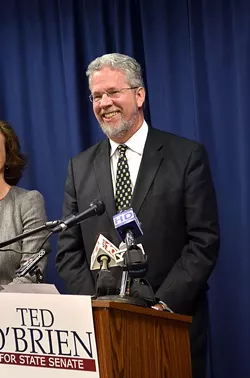 Democrat Ted O'Brien won his state Senate race.

Several media outlets are reporting that Democrats are on track to win the 32 seats they need to be the majority party in the state Senate. Democrats are confident that they've won the seats, but votes are still being counted in some of the races.
For example, a Democrat has such a narrow lead in one race that the winner will be decided by absentee ballots, reports the Albany Times Union.
Locally, Democrat Ted O'Brien's victory over Republican Sean Hanna added a seat to the Senate's Democratic caucus. The seat was previously held by Republican Jim Alesi.
But IF Democrats do, in fact, have the majority, that doesn't mean they'll all agree on the chamber's leadership. Four Democratic members previously formed their own caucus and the New York Times reports that they "have not said whom they would support as majority leader — a Democrat or a Republican — to control the chamber."
The Times also reports that another Democrat, Simcha Felder of Brooklyn, hasn't ruled out siding with Republicans.
The last time Democrats controlled the Senate, several members joined with Republicans in a leadership coup, throwing the chamber into chaos and gridlock.
If Democrats do end up with the majority of seats, they'd be wise to settle the leadership question before the start of the January session. The four-member Independent Democratic Caucus started because its members said they'd lost faith in their caucus's leader, Senator John Sampson (see this New York Times story for the details).
Albany's got enough to deal with, it doesn't need another protracted leadership battle.
[10:15 a.m.] SLAUGHTER/BROOKS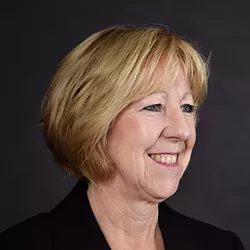 I think people expected more from the Congressional contest
between incumbent Democrat Louise Slaughter and her Republican opponent, Monroe
County Executive Maggie Brooks. (According to unofficial results from the Board
of Elections, Slaughter won about 57 percent of the vote.)

Brooks delayed talking about national issues as long as she
could, and then her replies were either vague or straight from the Republican answer-factory.
In place of real discussion, her campaign repeatedly taunted Slaughter for "dodging"
debates. Brooks challenged her opponent to six debates, Slaughter agreed to
two.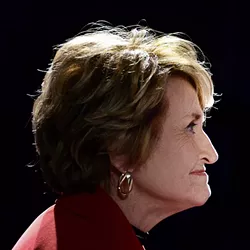 There were also ugly and untrue rumors about Slaughter's health, and contemptible remarks about her age and
appearance — none directly from the Brooks camp, it should be pointed out.

Slaughter's team went right for Brooks' soft underbelly: the
county scandals. That strategy never worked for local Dems, but maybe Slaughter's
money finally got the message across.

Slaughter was also certainly boosted by a strong turnout in
the city and by President Obama's popularity. Slaughter's numbers closely
parallel Obama's in Monroe County. Democrats also have an enrollment edge in
the 25th District, but the district is more conservative than the one Slaughter
currently represents.
Barack Obama is and will continue to be the president of the United States.
Maybe voters also understood that no matter what Brooks
promised, she'd have little option as a freshman representative but to follow
the wishes of the House Republican leadership. And those extremist positions
probably don't play well in Monroe County.

What's next? Though a powerful and influential
representative, Slaughter is still a member of the minority party in the House
— which makes it much more difficult to get things done.

Brooks has three years left as county executive before term
limits kick in, but it's doubtful she'll serve them out. A much more likely
scenario is that she steps down — to run for another office, to take another job — to pave the way for her successor, who would be appointed by
the Republicans in the County Legislature. Who would that person be? No obvious
candidate comes to mind, though some town supervisors are salivating — off the
record, of course.