General Motors announced today that it will shut down its Honeoye Falls fuel cell research and development facility. The technical work will be transferred to the automaker's Pontiac, Michigan, powertrain facility.
"The primary driver is really to consolidate the technical expertise in our global powertrain headquarters," says GM spokesperson Kim Carpenter.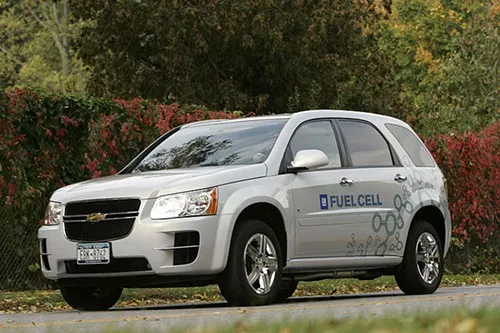 COPYRIGHT GENERAL MOTORS
This photo from 2007 pictures the Chevrolet Equinox fuel cell vehicle.
General Motors employs approximately 220 people at the facility, which is nestled away in the village. The company leases the facility and that agreement expires in 2013, Carpenter says. She expects the transfer to be under way by the first quarter of 2013.
The research and development center has served as a high-profile tech industry in the Rochester area, one that received lots of institutional buy-in.
Researchers at University of Rochester and Rochester Institute of Technology have worked with the Honeoye Falls staff on various fuel cell and hydrogen fuel technical issues. Politicians have publicly and aggressively pushed for federal research funding; New York has contributed some infrastructure funding. And Monroe County officials worked hand-in-hand with the center to test a Chevrolet Equinox fuel cell vehicle prototype.
Whether any of those partnerships will continue is unclear.