The F Word. An online column for Frank De Blase to pontificate, ruminate, placate, and salivate. We'll have reviews and previews, we'll discuss trends in local and national music scenes, and we'll try to do it as reverently as possible. Yup. Let's get started.
Going out to see all these shows is taking its toll on my precious ears. So I'm here to remind you volume villains, you're confusing "loud" with "big." Big can hurt, too, but it's not as shrill.
I go out to see live music a lot, whether it's loud or not. Now, most Rochester musicians know how to work the room — some just know how to work the room over, and that's OK. Some music calls for getting in the audience's face. Some wanna fist-pump; some wanna dance. I understand the musicians' pain in fitting into a venue and communicating with the crowd. And I know what it feels like to want to be loud.
The problem is that you're trying to move the air with the sound, and I understand that. I also understand being on stage is kind of like a mating ritual of sorts. But I'm here to tell you: a Marshall amp cranked to 10 will yield no harvest of attention or affection. Rather, it'll make a mass exodus for the door.
Hearing damage can begin around 85 decibels, but the average metal show comes in at around 100. Wear your earplugs kids or learn to read lips. Somebody get the phone... it's tinnitus calling.
I Scene It
The Electro Kings leader, Luca Foresta, makes his own harps, and they shone bright —sonically — when he beared down between bluesy verses last Wednesday in the Record Archive's Back Room Lounge. The band plays swingin' blues — not too loud — with a hint of Texas push and shuffle. And let's not forget Foresta's sharp duds. He dresses like a gabardine pimp on Easter Sunday. A perfect cocktail.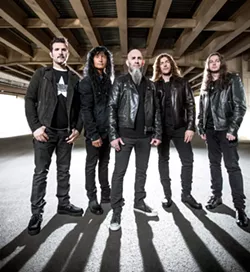 Friday night at The Dome, Anthrax brought the metal home along with Killswitch Engage. Killswitch Engage played too damn long, and the drummer overused the double kick, but the band was tight and had the crowd pumped.
Now, when you have an older metal band with an older following, there's not too much moshing going on, especially with no first aid station within limping distance. But about four songs into Anthrax's set, I witnessed a guy walking toward me and my buddy the Tin Man rather awkwardly before collapsing before us. By the looks of the unnatural angle of his leg, I thought he had broken it. That is until I saw him remove it the rest of the way, reattach it, and head back to the front of the stage. Coolest thing I've seen in a long time.
Anthrax sounded fantastic, by the way, with Joey Belladonna's voice soaring to the top of the Dome's dome while the band sped below. I totally forgot that the band covered Joe Jackson's "Time," and I went bananas when they pulled it out halfway through the rather short set. By the by, the sound was big and loud. Loved it.
I've been catching a buzz about 19-year-old guitar player Jon Dretto, so Saturday night, me and Red Wing Nick trucked down to Murph's in Irondequoit to see if he shreds. And it's true, the kid is good, but I'd rather he focus on originals. However, the Amy Winehouse cover was clever. We'll be hearing more from Dretto, I'm certain.
Later that night, I flew solo to Dinosaur BBQ, to catch The Swooners swoon, croon, swing, groove, bop, and sing a lot of Prince-esque falsetto before a jumping dance floor. The band was followed by Syracuse's Dracula Jones who came out blasting high octane rock reminiscent of Social Distortion or a car bomb exploding ... followed by the afore-mentioned exodus. A bunch of us stuck around just the same. But DJ was almost too loud for the venue. They were good, and loud, and loud. Perhaps there was some big in there. And they were loud.
By The Way
Lilac Festival headliners will be announced tomorrow, and we'll have them here as soon as we get 'em.
And check out the print edition of CITY Newspaper on stands Wednesday for my interview with The Demos.
Whatever happened to Coolio?