PHOTO BY JOSH SAUNDERS
Charles Pillow led his Large Ensemble at Xerox Auditorium Wednesday night.
When jazz aficionados think of Miles Davis and jazz orchestra music, the first thing that comes to mind is a series of recordings Davis made with arranger Gil Evans in the late-1950's. Wednesday night at Xerox Auditorium, the Charles Pillow Large Ensemble performed something fairly radical: jazz orchestra arrangements of some of Davis's most controversial works produced during his initial "electric" period in the late-1960's and early-70's.
I remember when "Bitches Brew" came out in 1970. Someone put it on at a party, and I couldn't stand it. Give it about five decades and an excellent big band and hey -- I like it. An Eastman School of Music professor, Charles Pillow wrote some fantastic arrangements of tunes from "Bitches Brew," "In A Silent Way," and "On the Corner." Maybe it's the time that's passed or maybe the fact that Davis's revolutionary recordings influenced so much that came after, but everything the ensemble played sounded good.
In the role of Miles Davis (sort of) were two of the top trumpet players on the scene today, Tim Hagans and Clay Jenkins, another Eastman professor. Both were superb, as was Pillow when he took saxophone solos and led the band from the middle of the sax section. The 16-piece ensemble was made up of top national players and some excellent Eastman students who rose to the occasion. My favorite of the arrangements was "Spanish Key," a Davis tune. I might have to check out those albums and give them another chance.
Find more on Charles Pillow at charlespillow.com.
George Cables began his Hatch Hall set by dedicating a song, "Lullaby," to pianist Geri Allen, who died today at the age of 60. (Allen, who played Kilbourn Hall at the 2007 Jazz Festival, was a jazz giant who will be greatly missed.) Then Cables launched into a series of standards, all of which were embellished greatly by his brilliant technique.
When he played "You Don't Know What Love Is" the tune itself seemed embedded in a larger blues composition. "Up Jumped Spring" became an impossibly intricate tour-de-force. And his version of "'Round Midnight" was more like "By Midnight," as in, it's 11:58 p.m. and we've got to get this song done by 12 -- I've never heard it so fast.
The best tune in the set was one of the few originals Cables played. "Helen's Song," a tune he wrote for his wife, is a lilting, lyrical, mid-tempo composition with great harmonies, surprising turns, and a melody I still can't get out of my head.
George Cables will play as part of 4 By Monk By 4 on Thursday at the Lyric Theatre, 4 p.m., ($30 or a Club Pass); and on Friday night at Kilbourn Hall, 6 p.m. and 9 p.m. ($35 or a Club Pass) He is one of four excellent pianists playing the music of Thelonious Monk. georgecables.com.
Over at The Little Theatre, Ryan Keberle & Catharsis was playing with a unique front line. The heads of tunes were played by three horns: Keberle on trombone, a saxophonist whose name I didn't catch, and Camila Meza on voice.
Meza, who also played guitar, provided a vocal with words for the band's best tune of the night. After a free jazz improvisation, the band segued into "Al otrolado del río," by Jorge Drexler. Meza's vocal was wonderful and the band backed her beautifully with punctuated horn riffs.
Ryan Keberle & Catharasis can be found at ryankeberle.com.
Thursday night I'll be headed to Hatch Hall to hear one of my favorite pianists, Manuel Valera, in a solo concert. Then I'll head over to Harro East Ballroom to hear vocalist Youn Sun Nah. I'll finish with the Walt Weiskoff Quartet at Xerox Auditorium.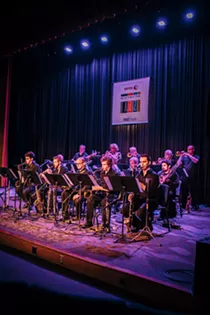 10 slides