PHOTO BY FRANK DE BLASE
Vanessa Rubin performed at Max of Eastman Place on Tuesday night.
What a splendiferous, fantastical, and magical evening I had. After Monday morning quarterbacking the night before, and handicapping the upcoming schedule with the JAZZ90.1 jumpin' jazzperts, I dove right in to Max of Eastman Place once again.
This time it was to see Vanessa Rubin. What an absolute joy she was as she sang with elastic epiglottal electricity. She hit the classics -- "Moonglow," "Besame Mucho" -- along with her own stuff that shimmered with a casual effervescence that delighted the stuffed house.
Her between-song banter was cheeky and charming and hysterically self-effacing; she claimed to have "jazzheimers" when she couldn't remember a line to a particular song. No worries, she scatted through the blank spots like Ella or a trip to the moon on gossamer wings.
Just suffice it to say Postmodern Jukebox rocked me and a packed Kodak Hall like a hurricane. The band had it all: an in-charge emcee; three warbling chanteuses who could all crack the sky with their range; a tap dancer that looked like Josephine Baker; and a cracker-jack band with two ex-Rochester homeboys in the brass section, trumpeter Mike Cottone (of the band Holophonor) and trombonist Nick Finzer. All that was missing were a few flying monkeys and some pyro.
The way the band takes current and some classic pop and re-tools it into swing may sound like a gimmick on paper, but live, it's amazing. The band was rewarded with standing ovations throughout its 90-minute show. A bit of the irony was lost on me as I don't know a lot of the songs that PMJ re-upholsters, but even without the back story, they're still great tunes.
Radiohead's "Creep" brought tears to my eyes, and the band's take on Meghan Trainor's "All About the Bass" was probably one of the sexiest things I've seen or heard in a while. And the bands encore take on Fountains of Wayne's "Stacy's Mom" was the funniest thing I've heard in a while. The whole friggin' show swung like DiMaggio aiming for the cheap seats.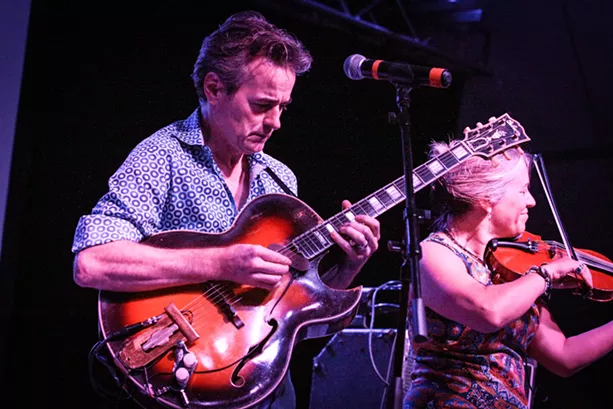 PHOTO BY FRANK DE BLASE
Hot Club of Cowtown played the Big Tent on Tuesday.
For a bit of decompression, I headed to my final stop of the evening: Hot Club of Cowtown, who swung light and tight like tumbleweeds made of velvet. They have a big sound for an acoustic-based three-piece and call to mind Bob Wills. The trio played their collective heart out, but alas I was shellac'd and couldn't take no more, so I stumbled home under a fingernail moon to tell you this tale. It goes something like this: What a splendiferous, fantastical and magical evening I had ...
Tomorrow night, its Tommy Smith, Marcia Ball, and Mavis Staples -- provided I wake up in time.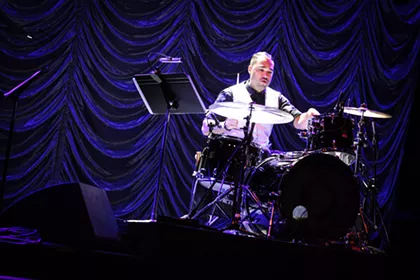 10 slides