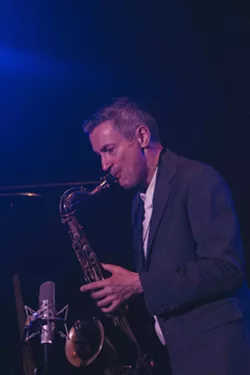 PHOTO BY KEVIN FULLER
Saxophonist Dave O'Higgins.
Eri Yamamoto was so charming at Hatch Hall Tuesday night that the audience was in love with her before she had played a note. Once she began to play her fantastic bluesy opener, "You Are Welcome," we only fell deeper. She explained that it was the first tune she wrote when she moved from Japan to New York City because she was intrigued by the way Americans thanked each other.
Becoming a New Yorker was the subject of her next endearing story. Classically trained, she knew little about jazz when she visited the city as a tourist. She went to see Tommy Flanagan's trio at a club and was so taken with the music she approached the pianist and said, "I want to be like you." He told her to move to New York, and a month later, she did. Long story short, 21 years later she is a lot like Tommy Flanagan.
Yamamoto played all original tunes and every one was superb. She played an exuberant composition titled "Life," about experiences like the one above. She seemed genuinely in awe of the unlikely events that led up to that very moment that she was at the festival playing for us. It was all incredibly sincere and the music was wonderful.
Another tune, "Half Moon," was written as a reaction to glimpsing a shining moon in a dark sky at just the right angle from her apartment window, which is mostly blocked by tall buildings. You could almost feel the weight of the dark sky in her brooding bass notes and see the brilliance of the half-moon in the jubilant melodies of her dancing right hand. It was a gorgeous musical metaphor for her celebration of life.
There was much more, like the touching "Echo of an Echo," she wrote when she heard her late father's voice while practicing. For me, Yamamoto's set was the highlight of the festival so far.
Earlier in the evening I heard another excellent pianist, Steve Kuhn, at Kilbourn Hall. Kuhn's set featured standards like "Stella By Starlight" and "My Shining Hour" with a lyrical touch that was matched by the musicians in his excellent trio.
Drummer Billy Drummond had a near-symbiotic relationship to Kuhn; after two decades with the pianist, he seemed to anticipate every move. Drummond also had a fascinating habit of spinning the stick in his left hand and playing portions of tunes with the blunt end of that left stick.
The set was consistently strong, but I thought Kuhn saved the best for last when he played two of his own compositions: "Trance" and "Oceans in the Sky." The former lived up to its name with hypnotic melodies featuring clusters of notes that always seemed to come back on themselves while the latter had a euphoric quality to match the grandeur of the concept.
The audience was definitely into saxophonist Dave O'Higgins at Christ Church, so I'm sure it's just a matter of taste, but I found the group to be a bit buttoned up (literally -- they were all wearing coats and ties). Every time O'Higgins took a solo, it seemed loud and brash. This could work on a bold tune like George Gershwin's "It Ain't Necessarily So," but it robbed Thelonious Monk's "'Round Midnight" of its mystique. The best moments (to me) were those when pianist Jeb Patton was taking a solo. He was excellent.
Wednesday night I'll start with pianist George Cables at Hatch Hall. Then I'll check out Ryan Keberle & Catharsis at the Little Theatre. I'll close out the night with the Charles Pillow Large Ensemble at Xerox Auditorium.