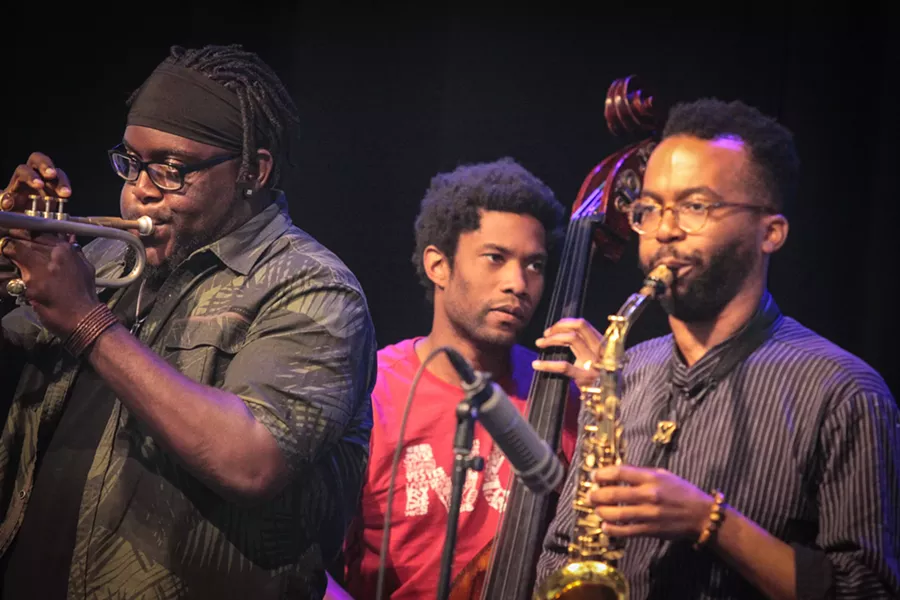 PHOTO BY FRANK DE BLASE
Marquis Hill Blacktet performed at Max of Eastman Place on Monday as part of the 2017 XRIJF.
The Marquis Hill Blacktet got my motor running right tonight with an outasight dose of the bop during the matinee set at Max of Eastman Place. His trumpet zipped and ping-ponged off the walls into a shimmery cascade that was straight from the fridge, dad.
Hill traded off liberally to his alto sax man while we all stood drop-jawed in awe of the monster behind the drums. He doubled his attack frequently on the up-beat where it sounded like he was playing more drums than were actually before him.
What really sent me was the righteous vibraphone player who danced and pranced the mallets over his instrument. One minute he was punctuating Hill's flourishes and flurries, the next he was letting fly with little bursts of rhythm only to bring it down to that of a mysterious chime of a music box. The funny thing is the quieter he played, the more you could feel the sustain of the notes reverberating in your bones. It made me pleasantly dizzy.
Here's a hint: if you want to entertain me, if you want to win me over as a fan, just don't tell me what to do. Don't tell me to make some noise; that's your job. This also holds true for screaming, waving my hands in the air like I just don't care, and stage diving. This is why Warped Tour sucks now. The New Breed Brass Band didn't break all those rules, but they fractured a few. And they yelled at all of us in the Big Tent. A lot.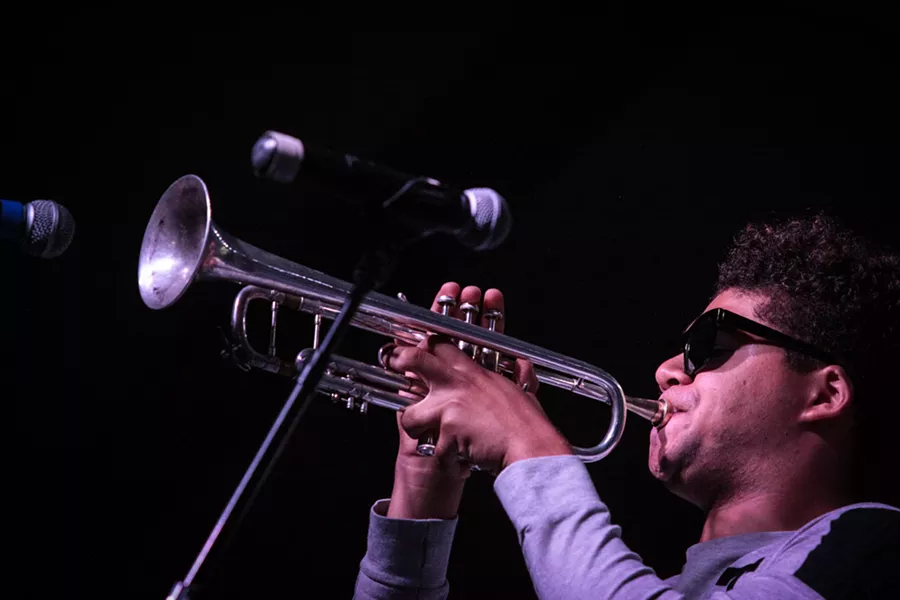 PHOTO BY FRANK DE BLASE
The New Breed Brass Band at the Big Tent on Monday.
The New Orleans-based band is essentially a parade trapped in a snow globe. They are kinetic and cool, and need to be out and about, marching down the street. I loved the sousaphone on the bass parts -- you could feel it way down in your guts. Individually, the horn players were masters of their instruments. All together, though, it was as if the transmission was slipping every so often. It was more blaring blasts of notes than songs, and my ears looked desperately to hang on to anything they could -- a hook, a riff -- but kept falling off.
New Breed Brass Band plays again Tuesday, June 27, at Montage Music Hall. 6 p.m. and 10 p.m. $30 or a Club Pass.
Tomorrow, you'll find me limping along the killing floor to see Postmodern Jukebox at Kodak Hall and Hot Club of Cowtown at the Big Tent.