Roberta Piket began her set at Hatch Hall, Friday night, with a kind of call and response between her right hand and her left on the Steinway grand piano. The dialog ranged from sparse melodies answered by blunt chords to lush clusters answered by pounding bass. Eventually all of this morphed into "Monk's Dream," the first of many Thelonious Monk tunes to be played at the Xerox Rochester International Jazz Festival. It appeared to be a kind of warming up, getting those fingers -- and her sensibility -- ready for the marathon to come.
When the tune ended, Piket peeked into the piano to confirm what she'd suspected: "This is a first; I broke a string," she said. "It's the jazz version of Pete Townshend." Despite her phenomenal talent, Piket had a refreshingly down-to-earth rapport with the audience when she introduced compositions. Among them were a beautiful rendition of "Softly, as in a Morning Sunrise"; lesser-known tunes by Marian McPartland; and works by her father, a (mostly) classical composer, and her husband, a jazz drummer. Every one was a tour-de-force.
Roberta Piket will not perform again during this year's XRIJF. robertajazz.com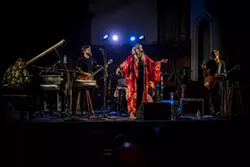 PHOTO BY JOSH SAUNDERS
Yggdrasil performed in the Lutheran Church of the Reformation on Friday night.
The most unique attributes of the Nordic group Yggdrasil are the ethereal voice of the band's singer, Eivør, and the compositions of its leader, Kristian Blak. The highlight of the group's set at the Lutheran Church, Friday night, was Eivør's gorgeous vocals on Blak's musical interpretation of a Shakespearian sonnet.
Eivør's voice soared with effortless acrobatics reminiscent of Kate Bush, and on other tunes her vocal vocabulary extended to bird-like sounds and Björk-like gyrations. Dressed in black, topped with a red and white floor-length cape-like garment, Eivør had the presence of a blonde goddess, witch-like in the most positive way.
When she left the stage, the band was considerably less mystical, although the guitarist made interesting sounds with pedals and electronics, not to mention occasionally bowing his guitar.
Yggdrasil won't perform again during this year's XRIJF, but Eivør appears Saturday, June 24, with her own band at the Lutheran Church (7:30 p.m. and 9:30 p.m.); and Blak performs on piano at Hatch Hall on Sunday, June 25 (5:45 p.m. and 7:45 p.m.). Those shows are $30, or you can use your Club Pass.
Early in her set at Kilbourn Hall, Tierney Sutton mentioned that her band had been together for 25 years. This is highly unusual in today's jazz world, and Sutton's band certainly had an unusually high level of simpatico as a result. Sutton herself is more than a singer; almost half of her contribution showcased the instrument that is her voice in seemingly effortless, wordless scat-singing.
Having recently recorded an album of songs associated with Sting, it was no surprise to hear her rendition of "Fields of Gold" and "Every Breath You Take." She introduced the latter as "the ultimate stalker song" but said she preferred to think of it as a song dealing with empty nesters who are happy that their kids are out on their own and are still concerned about them.
Sutton's set went far beyond Sting to the Miles Davis catalog, with Bill Evans' "Blue in Green" and three tunes from George and Ira Gershwin and DuBose Heyward's "Porgy and Bess." She also displayed her vocal dexterity on the impossibly complicated lyrics of Richard Rodgers and Oscar Hammerstein's "Surrey with the Fringe on Top" and on her wonderfully creative rendition of Harold Arlen and Yip Harburg's "Ding Dong the Witch is Dead."
Tierney Sutton will not perform again during this year's XRIJF. tierneysutton.com.
Saturday night, I'm looking forward to hearing pianist Billy Childs at Kilbourn Hall, the Scandinavian singer Eivør at the Lutheran Church, and Gabriel Alegria Afro-Peruvian Sextet at Xerox Auditorium.
Check out the slideshow below for shots of Yggdrasil's Friday night performance in the Lutheran Church.
9 slides