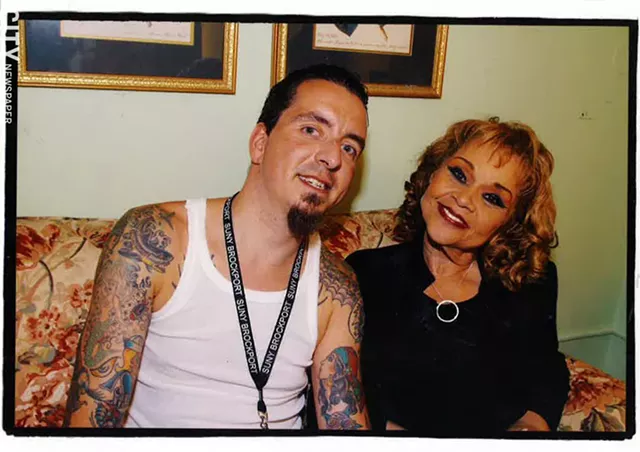 PHOTO COURTESY FRANK DE BLASE
Frank De Blase with Etta James when she played the XRIJF in 2006
Vagabonds invade Max
One of my favorite Jazz Festival experiences was entirely unexpected. Between shows in 2008, I was walking down Gibbs Street when I ran into Frank De Blase. He told me I had to see this group at Max. I hadn't planned to see them but Frank was adamant.
On the stage I found Billy's Band, a group I described at the time as a cross between the Marx Brothers and the Brothers Karamazov. Fresh from Russia, they had a thorough knowledge of Louis Armstrong and Tom Waits, which they put to great -- and absurd -- use.
Billy (Vadim Novick) spoke English with great confidence but made no sense at all as he swung his double bass around like a toy fiddle and sang in a deep growl. All four band members may have shopped that day for the torn thrift-store raincoats they were wearing. They had no trouble holding the audience's rapt attention but, if they noticed people gathering outside the wall of windows behind the stage, they turned their backs on the audience and played for their new fans.
The guitarist was the Harpo Marx of the group, shaking his wild mane of hair at every opportunity. The band also boasted an accordion wizard and a wailing saxophonist; their musicianship was every bit as brilliant as their bizarre behavior.
Billy's Band was a wonderful group of vagabonds, straight out of the 1920's, and the large crowd at Max was completely under their magic spell.
-- BY RON NETSKY
Eldar wins over Hatch Hall
A thrilling experience of another kind happened in 2012 at one of the festival's smallest venues. After a set of standards like "I should Care," "Embraceable You," and "Moanin'," the great pianist Eldar ended his set by playing George Gershwin's masterpiece, "Rhapsody in Blue." The perfectly tuned Steinway in Hatch Hall never had it so good -- and neither did the audience. It was nothing short of phenomenal.
Eldar played the piece a little faster and a little bluesier than modern audiences are used to, but that's the way Gershwin played it on his own recording. All through his set, Eldar played brilliantly, his hands moving across the piano keyboard seemingly faster than humanly possible.
"Rhapsody in Blue" may be the first great fusion tune; an incredibly challenging piece requiring equal measures of classical mastery and jazz sensibility. Eldar took it in stride, cross-hand parts and all. He got the largest ovation (in the smallest hall) that I've ever witnessed at the XRIJF.
-- BY RON NETSKY
Ron Netsky steals some of James Brown's mojo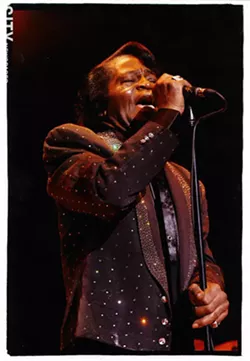 PHOTO BY FRANK DE BLASE
James Brown almost killed Frank De Blase
The scene was keen and anything but serene. It was plain outta sight.
Ron Netsky and I were front and center at The Eastman Theatre, mere feet away from the Godfather of Soul, dancing like incurables and singing loudly along to every song we knew -- and even louder to those we didn't. Suffice it to say, we were down with Brown who was in town for the 2006 Jazz Fest.
Brown and his band were tighter than Orson Welles in Spandex that summer night so many years ago as they all segued seamlessly and salaciously slick on stage. Brown's moves were part moonwalk, part pugilist footwork.
Now, if you'd seen before where Brown knocks the mic stand over and snatches it back up with a flick of the cord, you know it's pretty cool. However, if you're like Ron and me -- squealing like a couple of teenage fans on pogo sticks -- you don't necessarily see it coming. So there I was throwing a first-rate tempo-tantrum, unaware that Brown had launched the mic stand accidentally toward my head. By the time I saw it, the microphone was inches away from my face, so to avert any collision I dove to the side, which to everyone behind looked like Brown has brained me.
From my spot on the floor in front of the stage, I looked up to see James Brown's smiling countenance and outstretched hand. He pulled me up and apologized, saying "Hey man, we're just trying to have a little fun up here. You ok?"
I'm not sure what I said if anything. I was looking down at my hand, which was slick with Brown's sweat. But before I realized I had witnessed something so cool, Ron reached out, grabbed my hand and shook it, effectively stealing a good deal of the maestro's moisture that was on my hand. The bastard stole James Brown's mojo from me.
-- BY FRANK DE BLASE
Etta James loves me
Etta James was one of my favorites, and I was triple twitterpated to secure an interview over the phone with her for her 2006 performance. "At Last," I thought. But alas, it fell through.
I was compelled to write about her just the same. I wanted to express how I felt while giving her adequate respect and relevance. I referred to her in my write-up as a "bouquet of switchblades" -- which she apparently loved when she read it.
Her assistant called me and said that Ms. James wanted to meet me. *Swoon*. The assistant met me and Ron Netsky at our seats to secure the backstage particulars for after the show. The assistant must have pointed us out to James because the moment she came on stage, she blew us a kiss. No, it wasn't in our general direction; it was aimed directly us, I could feel it. OK, innocent enough, I thought, and blew one back.
And then it got raunchy.
If you know Etta James, you know her music is sweet and sexy; it sets the mood. Throughout the show, it was as if she were playing to Ron and me. She rubbed her hands up and down her body as if she were in a bubble bath. She got up and shook her moneymaker in our direction and licked her lips. I've got to admit, it was kind of dirty. At one point, Ron started to get alarmed and said, "She doesn't want to meet us, she wants to make out."
When we got to her dressing room, Ms. James was cordial and insisted I sit next to her on the couch. She posed for a few pictures and I got a kiss. I think I collected Ron's as well, that ought to make up for the James Brown sweat he stole from me.
-- BY FRANK DE BLASE