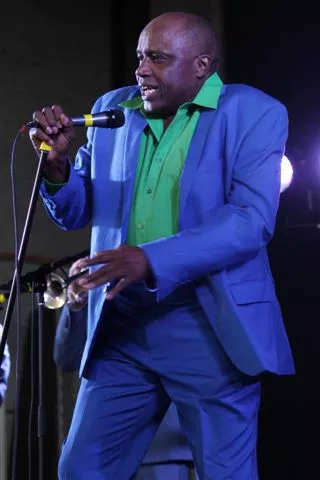 PHOTO BY FRANK DE BLASE
Sonny Knight & The Lakers got the crowd moving in Harro East Ballroom.
Sonny Knight was a solid sender at his Harro East Ballroom early set Wednesday night. It was some seriously intense stomp and git-it rhythm and blues. The band took the stage and immediately brought the heat with bass, guitar, drums, organ, and a smoking horn section including the royal rattle, rumble, and honk of the baritone sax. I loved it. Though he can belt like Brown, Knight is more of a soul crooner than a shouter. And croon he did over a set that was segued so tight the band essentially played one song. The emotion poured out of him like the sweat that threatened to drench his neon duds. He held the audience in his hand getting it to jump up and down un-self-consciously. There were car keys and change all over the floor and satisfied smiles for miles. Great tone. Great sound. Great band. I want more ... and I aim to get it, too.
I left all pre-conceived hatred of contemporary pop at the Kodak Hall door as I strolled in with the Tin Man to catch the big show. Well, goddamn; that Jennifer Hudson can belt. And she's as disgusted as I am with current R&B and its vacuous, melody-less meanderings by shitheads masquerading as musicians. And like Herb Alpert questioned as well on the very stage a few days ago, she asked, "Where's the melody?" Well, she answered it with this show. Hudson not only has excellent tone and range to her voice, but her phrasing and brilliant re-working of classic soul and R&B sounds is simply amazing. It seems like I'm on the edge of tears at a lot of these shows lately and Hudson probably came the closest to getting the waterworks flowing with a heartbreaking rendition of Leonard Cohen's "Hallelujah."
Back to more soulful blues with a kick in the balls from Dana Fuchs. Fuchs plays classic roadhouse rock 'n' roll. Her second set at the Big Tent stage was low down and dirty. It was as intense as a lap dance from a belt sander. Her voice is righteously raspy and raw and that hair ... I think I'm gonna start crying again. Tito, get me a tissue.
PHOTO BY FRANK DE BLASE
Jennifer Hudson almost brought Frank to tears when she played Kodak Hall Wednesday night.