Before we kick off into this evening's festivities I forgot to tell you about the Sauce Boss and his set last night on the Jazz Street stage. Well, he was on fire and I'm not just talking about his kitchen shtick where he's rockin' while a big pot of gumbo is cookin' which he serves to the crowd like that loaves and fishes tale in the Bible. The Sauce Boss plays some hellacious and greasy slide blues while operating the drums with his feet. It was hot and spicy and satisfying ... the music that is; hey, I ain't a food critic.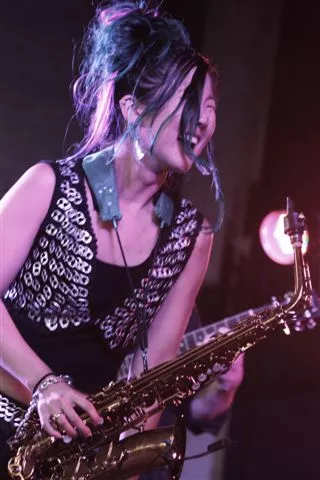 PHOTO BY FRANK DE BLASE
Grace Kelly performed at Harro East Ballroom during the 2015 Jazz Festival.
The line to see Grace Kelly's 5:30 show at the Harro East Ballroom wrapped around the parking lot and down the street. I went inside to see what's what. Suffice it to say, it wasn't for me. She was bubbly and fun, and though dressed like a roller derby girl with a sax, Kelly was entirely too smooth for me so I evaporated and headed to the Little Theatre for Chet Catallo. Lately he's been picking the blues at jams around town, but tonight's set was boisterous and boppin' with Catallo leading a stage full of musicians themselves full of precision, groove, and polyrhythm. The dynamics were impressive and hairpin as the band quickly found its legs.
Who would have known that a few short hours later I'd be singing with Herb Alpert. Alpert and his wife, Lani Hall, and his excellent band created a beautiful night full of reminiscence and song. Alpert wondered aloud where had melody gone before digging in to the melody he has graced the world with for years. At 80, Alpert was limber and spry as he effortlessly sent brassy and classy salvos to the rafters. His tone was baby bottom smooth and jazz cool. He was reluctant to sing "This Guy's In Love With You" but relented as long as the audience joined in. What a sweet treat. The show was full of big band swing, jazz standards, pop, and Brazilian jazz-pop. Hall was spot on and equally charming as her trumpet-wielding ball and chain, as she intoned in English and Portuguese. The whole show -- and its three encores -- was truly a taste of honey.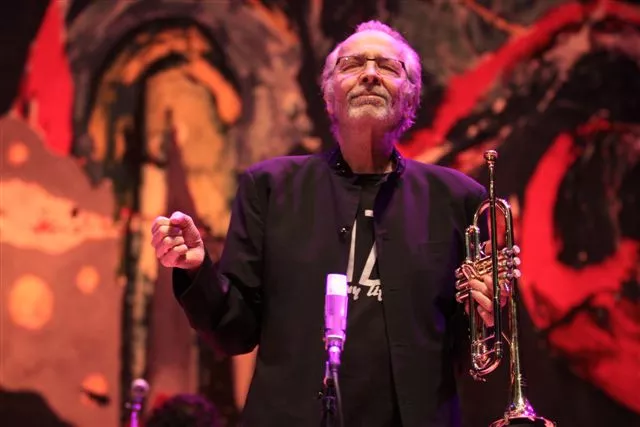 PHOTO BY FRANK DE BLASE
Herb Alpert performed with Lani Hall during his XRIJF Kodak Hall show on Saturday, June 20.