Cecile McLorin Salvant had been singing the songs of the early 20th century for her entire set at Kilbourn Hall Friday night. But for her final tune, she decided to step right back into that era. With all the microphones turned off, she launched into a totally acoustic rendition of Bessie Smith's "Blue Spirit Blues." It transported the music back to its essence. With no power, it was the most powerful song of the night.
McLorin Salvant is a singer of remarkable range in so many ways. She sang from deep in the lower register all the way up to soprano, her voice went from a whisper to a shout, and her emotions ranged from somber to ebullient. Aside from her own strong composition, "Woman Child," she covered standards with an emphasis on the songs of Cole Porter. There were familiar Porter tunes -- "So In Love" and "I Get A Kick Out Of You" -- but McLorin Salvant digs deeper than that. She sang one I've never heard before, basically a female protest song titled "Most Gentlemen Don't Like Love."
Great song choices and a magnificent voice are just part of a McLorin Salvant concert. She seems to view every song as a world unto itself and she enters that world. So, when singing tunes like "Glitter and Be Gay" and "Laugh Clown Laugh" she builds in no shortage of drama.
Her group -- Aaron Diehl, piano; Paul Sikivie, bass; and Lawrence Leathers, drums -- was sensitive to every nuance of her performance. Diehl was especially strong when soloing on "Lonely Town." He'll be back for his own XRIJF concerts on Tuesday and Wednesday.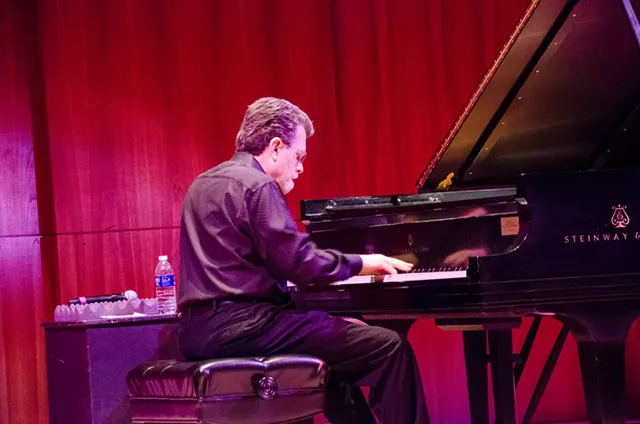 PHOTO BY MARK CHAMBERLIN
Bill Dobbins performed a tribute to Strayhorn at Hatch Recital Hall as part of the 2015 Xerox Rochester International Jazz Festival.
Over at Hatch Hall, Eastman School of Music Professor Bill Dobbins was celebrating the centennial year of the composer Billy Strayhorn. It was a scholarly presentation with lots of footnotes about the tunes, but this scholar has some great piano chops. There was no "Lush Life" here; Dobbins delves much deeper into the more obscure parts of Strayhorn's oeuvre. It's a safe bet most members of the audience were hearing tunes like "Boll Weevil Ballet" for the first time.
Another great composition, new to me, was "Hearsay," an evocative movement from his (and Duke Ellington's) "Deep South Suite." But there were also songs like "Johnny Come Lately" and "All Day Long," compositions just as brilliant, but also ripe for Dobbins' fanciful improvisation.
I ended the night with Music Music Music at the Lutheran Church. It was a pretty laid-back affair, with not a whole lot of pyrotechnics. When the trio played "a blues" it was, shall we say, a Scandinavian blues -- not bad but kind of frilly. The band was best (for me) when it was interpreting a tune I knew, like a reinvention of "What A Wonderful World." But the best performance of the concert was, not surprisingly, when they played their namesake: "Music Music Music."
I'll begin Saturday evening at Kilbourn Hall with pianist Benny Green. Then I'll go around the corner to Hatch Hall to catch the world's latest keyboard wunderkind, Joey Alexander. He's from Indonesia but has the technique of a 1950's-era American jazz pianist. Then I'll head over to Christ Church for the third pianist of the evening, Andrew McCormack, and his band.