Soul vocalist Jennifer Hudson and blues rocker Gary Clark Jr. have been added as headliners to the 2015 Xerox Rochester International Jazz Festival, organizers of the festival announced this morning.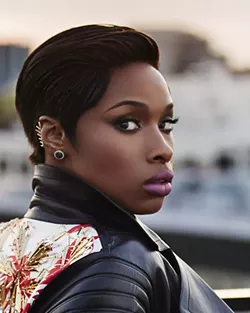 PHOTO COURTESY XRIJF
Jennifer Hudson
Hudson, a Grammy Award-winning singer and Academy Award-winning actress, will perform on Wednesday, June 24. Clark, who is also a Grammy winner, will perform with guest singer Beth Hart on Tuesday, June 23. Both concerts are in Kodak Hall at Eastman Theatre, beginning at 8 p.m.
Tickets go on sale at 10 a.m. on Thursday, February 12, at rochesterjazz.com, or by phone at 454-2060. Tickets for Hudson are $55-$120 plus service charges; and tickets for Clark and Hart are $33-$63.
The festival announced its first headliner, Diana Krall, in November. Krall will perform two shows on the festival's opening night, Friday June 19, and tickets fro the 4 p.m. matinee show are still available.
The 14th edition of the Xerox Rochester International Jazz Festival will take place June 19 through June 27. Club Passes are now on sale for $194 plus service charges.
Hudson gained notoriety in 2004 as a finalist on "American Idol," and has gone on to have a prominent R&B and acting career, winning a Grammy for her 2008 debut self-titled album. Her sophomore album, "I Remember Me," entered the Billboard Top 200 at No. 2, and her most recent album, 2014's "JHUD," debuted at No. 10 on the Billboard chart. In 2007, Hudson won an Academy Award for her performance in "Dreamgirls."
PHOTO COURTESY XRIJF
Gary Clark Jr.
With fuzzed out guitars and soul dripping from his voice, Clark won a Grammy in 2014 for his song "Please Come Home." The Austin-based musician isn't contained in just blues and rock, but his music stretches into R&B, soul, pop, and a little bit of hip-hop on his debut studio album "Blak and Blu." Clark will be joined by singer-songwriter Beth Hart, who is preparing to release her 8th studio album, "Better Than Home," in April.