Vijay Iyer was clearly relishing his homecoming during his trio's concert Monday night. It had been a decade since his last XRIJF performance at Max of Eastman Place, and after winning just about every award there is to win in the jazz world, the former Fairport resident was elevated to Kilbourn Hall. His joy clearly came through midway in the set when he asked the audience to "give it up for my entire family" in attendance.
My favorite pieces were Iyer's ballads, but that may be due to the difficulty of hearing the piano clearly over energetic drumming in the acoustic environment of Kilbourn Hall. The same qualities that make it perfect for an acoustic string quartet make it a challenge for a full-tilt jazz trio.
"Desiring," which Iyer said he wrote for his wife, featured a beautiful, haunting melody and a great bass solo by Stephan Crump. Another unnamed piece not only had an excellent solo by drummer Marcus Gilmore, it took several turns including one in the direction of blues and another toward gospel music.
As for Iyer's solos, he was in full command. He has brilliant technique but he's not afraid of simplicity. In fact, he uses the full range of piano projection, from so subtle you can hardly hear him to full ringing tone.
Finland's Kari Ikonen Trio -- with Ikonen on piano; Ara Yaralyan, bass; and Markku Ounaskari, drums -- played a high-energy set at the Lutheran Church. Ikonen has an ingenious way of turning the piano into a cross between a clavichord and a synthesizer by placing an object on the strings inside the piano. He used it sparingly but effectively to play repeated choruses on several tunes. The highlight of the set for me was the group's handling of Ikonen's composition "Azure," which nicely evoked the Mediterranean Sea.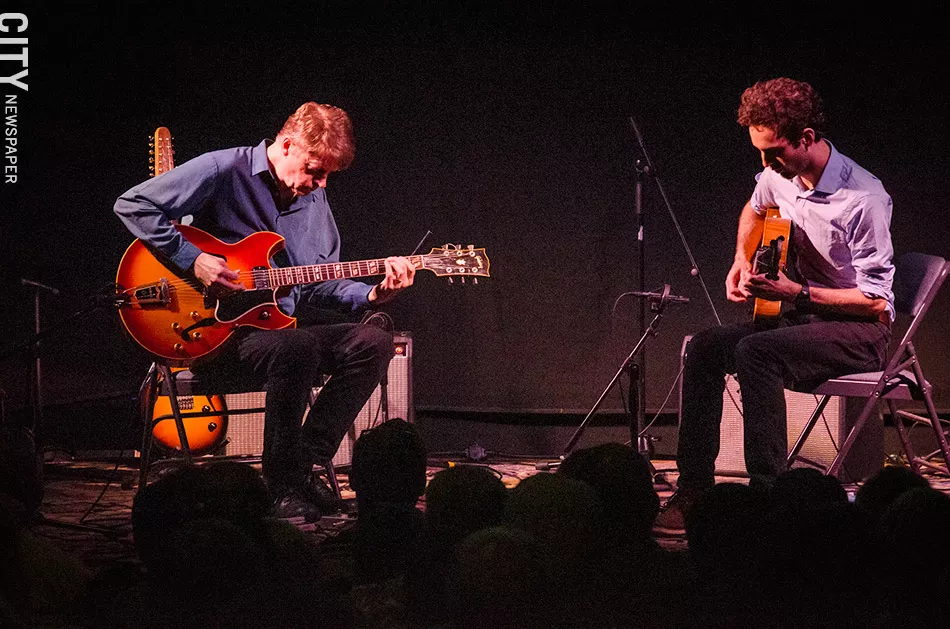 PHOTO BY MARK CHAMBERLIN
Julian Lage and NelsCline at the Little Theatre.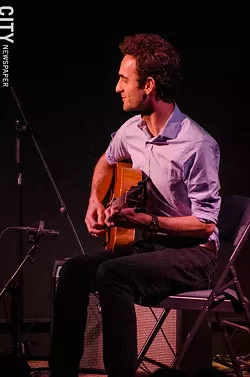 PHOTO BY MARK CHAMBERLIN
Julian Lage at the Little Theatre.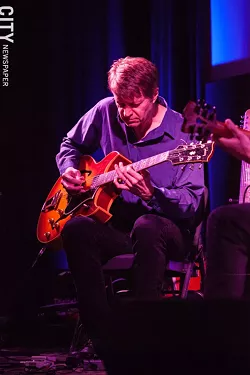 PHOTO BY JOHN SCHLIA
Nels Cline at the Little Theatre.
PHOTO BY JOHN SCHLIA
Julian Lage and NelsCline at the Little Theatre.
My last show of the night was another strong one: guitarists Julian Lage and Nels Cline at the Little Theatre. Cline, who plays with Wilco, used an electric guitar while Lage preferred an acoustic. They are both such virtuosos that sometimes it seemed that their fingers were in a constant series of races to the end of the fretboard. (Cline alluded to this when he introduced the first song, "Racy," which was about something else.) But when they latched on to a great tune, the interplay was sublime. One of those great tunes was "Rosemary," though Cline, who did all the talking, didn't say who wrote it. The set ended with a two-song suite (also unidentified) that was superb from start to finish.
Tuesday evening, I'll begin at Kilbourn Hall with one of the greatest drummers in jazz, Louis Hayes. Then I'll head over to the Lutheran Church to catch Jacob Young with Trygve Seim and Marcin Wasilewski Trio. I'll end the night with one of my favorite singers, Tessa Souter, and her special guest, trumpeter Lew Soloff, at Montage.
Vijay Iyer will perform solo at Hatch Recital Hall on Tuesday, June 24, 5:45 and 7:45 p.m.