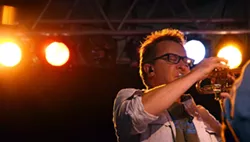 PHOTO BY MATT DETURCK
Mingo Fishtrap, at the 2013 Xerox Rochester International Jazz Festival.
Maybe I'm too invested in broad cultural stereotypes, or maybe I'm just a sucker for a great pair of legs. Either way I totally expected the Scottish National Jazz Orchestra to come out wearing kilts when they played the Xerox Auditorium Thursday night. I even wondered if they'd have bagpipes. But no; this is no novelty act. This is an ensemble of talented musicians who put on a superb set of jazz standards. They just happened to be from Scotland.
Saxophonist Tommy Smith led the 15-piece ensemble through pieces by Ellington, Gershwin, and Strayhorn. The Ellington pieces had a laid-back, toe-tapping quality, save for the raucous "Day Break Express," written about a train and evoking a locomotive's sounds. The band was so tight, so polished, that it inspired a couple of ladies to get up and swing dance. In Xerox Auditorium. I have never seen that happen at that venue before. But these great Scots knew how to please -- an audience that started out roughly 30 percent full kept growing throughout the set, with very few people leaving and more and more filling the seats.
The set really hit its stride with Smith's extended arrangement of Gershwin's "Rhapsody in Blue." The piece lasted 15 or so minutes, which Smith said was substantially shorter than his epic original take on the instantly recognizable tune. The piece went through a number of key and tempo changes, featured some outstanding solos from various members of the band, and had the audience riveted for its entire running time. I found myself longing to book a first-class ticket on United Airlines just so I could get loaded while flying over the Atlantic. On the top-shelf stuff. You know, classy-like.
The audience burst into a standing ovation at the end of the piece, but it may have been a miscalculation to put the song in the middle of the set -- a good chunk of the audience assumed that the show was over and walked out before the orchestra's also-excellent final numbers.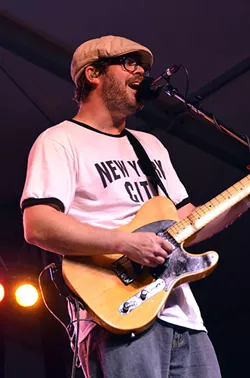 PHOTO BY MATT DETURCK
Mingo Fishtrap played the Unity Health Big Tent, Thursday, June 27.
After that I headed over to the Big Tent to catch the earlier show by Austin, Texas, band Mingo Fishtrap. Some ladies sitting next to me noticed that I was a reporter (the notebook probably gave it away; I really need to be more discreet) and one took the opportunity to explain that she was looking forward to the Fishtrap show more than any other at this year's festival. She saw the soul band at last year's XRIJF and became an instant fan. "You gotta be happy" when you listen to them, she explained. "You gotta." That was echoed by lead singer/guitarist Roger Blevins, Jr., when he said to the crowd, "All we ask is that you get down tonight."
Within five funky minutes the khaki-short set was wiggling in the seats. By the end of the first song the pit began to fill with women in sundresses, and the dancing didn't step until the show was over.
Even the band's slower songs were suffused with groovy rhythms and a throbbing bass line. (Arguably it was too intense; from where I was sitting the instruments were over-mixed so that Blevins was sometimes hard to hear.) It was perfect summer-festival music, appealing to blues fans, rock fans, jazz fans, jam fans, and especially r'n'b and soul fans.
While excellent solos came from the saxophonist and trumpet player, the other star of the show was unquestionably organist/keyboardist Dane Farnsworth, who took the tent to church several times with his swirling sounds, even despite some technical difficulties late in the set.
The show wrapped with a lively tribute to Soul Brother No. 1, James Brown, in which the band deftly switched time signatures to swap from "I Feel Good" to "Soul Power" to "It's a Man's Man'sMan's World." The crowd ate it up.
On Friday night Mingo Fishtrap plays the Jazz Street Stage for two free shows at 7:30 p.m. and 9:30 p.m. If the energy inside the Big Tent tonight was any indication, the outside crowd should be a dancing machine. Make sure you're well oiled.
Mingo Fishtrap performs at the Unity Health Big Tent. Video by Matt DeTurck