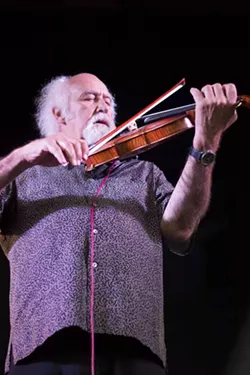 PHOTO BY WILLIE CLARK
BeauSoleil avec Michael Doucet played Sunday, June 23, at Harro East as part of the 2013 Xerox Rochester International Jazz Festival.
For my Sunday night at the Jazz Fest, I was back at the Rochester Club for Mike Brignola and Friends. Sometimes at the festival I have to make concessions, and even though baritone sax isn't tuba, it still dances low enough in my range-likings to be worth checking out.
But, there was just something off about his whole set. I've tried and tried and can't exactly wrap my head around it, but something tonally in Brignola's playing hit me the wrong way. It might have been his softer playing, or maybe it was the articulation on his runs, leading them to come off muffled instead of clean and clear. Whatever it was, he has another show tomorrow night, so readers, please check him out and comment below with what you think. There were a couple of mic flares, but given how small the room is I feel like style, not amplification, was the culprit here.
Diversity in song choice wasn't working for the group, either. It played through two songs before I even noticed it had switched from one tune to the next. And I know I've hit this point home on several Jazz Fest performers, but if you are playing at a festival of this caliber, you really shouldn't be relying on a music stand and reading music. It's jazz. Make it up as you go along and have fun.
Next up I headed down south for a little Cajun musical cooking with BeauSoleil avec Michael Doucet at Harro East. I wish we got more bands like this at the Jazz Fest: Louisiana folk/stomp/Cajun/jazz always seems to be highly underrepresented, and it's just so much fun. I love me some fiddle, and BeauSoleil brought that served up on a plate with the rest of its French Creole traditional music.
Tradition may be a big part of the group, but it also seemed to be its biggest weakness. I don't want to call the group disappointing, but it played a safe, comfortable, and relaxed set. No boundary pushing (though the Gospel tune was a treat). It was good, but the band kept everything at very safe tempos and never managed to progress past good into amazing or mind-melting territory. Just not enough hot sauce on this plate of jambalaya, I'm afraid.
5 slides