There are always a few acts at the XRIJF that I've never heard of before the festival, but I can't stop talking about after I've seen them. Pianist Matt Herskowitz is now on that list. Before describing him I want to say that I do hope the Steinway in Hatch Hall recovers from the (positive) pounding it took Saturday night. At some points in Herskowitz' performance you could see it shaking.
The concert had a title, "From Bach To Brubeck," and along the way Herskowitz visited Chopin, Schubert, and other composers. The premise was the embodiment of Third Stream music: the fusion of jazz with classical music to create, in this case, a wild hybrid.
What made the concert extraordinary was Herskowitz's beyond-brilliant technique. He was, of course, capable of subtlety, but he was astoundingly adept at impossibly fast and intricate passages. He found them in Bach and Brubeck and also in a "Chopin etude" that he made up, seemingly based on the premise of Chopin as a jazz man. He also played the most wildly rhythmic rendition of Gershwin's "I've Got Rhythm" that I've ever heard.
At one point, toward the end of the concert, on a tune by the late pianist, Michel Petrucciani, Herskowitz executed a two-handed fluttering chord passage that got faster and faster until it melted into a blur of hummingbird wings. After he lifted his hands, I swear the piano was still shivering with those notes.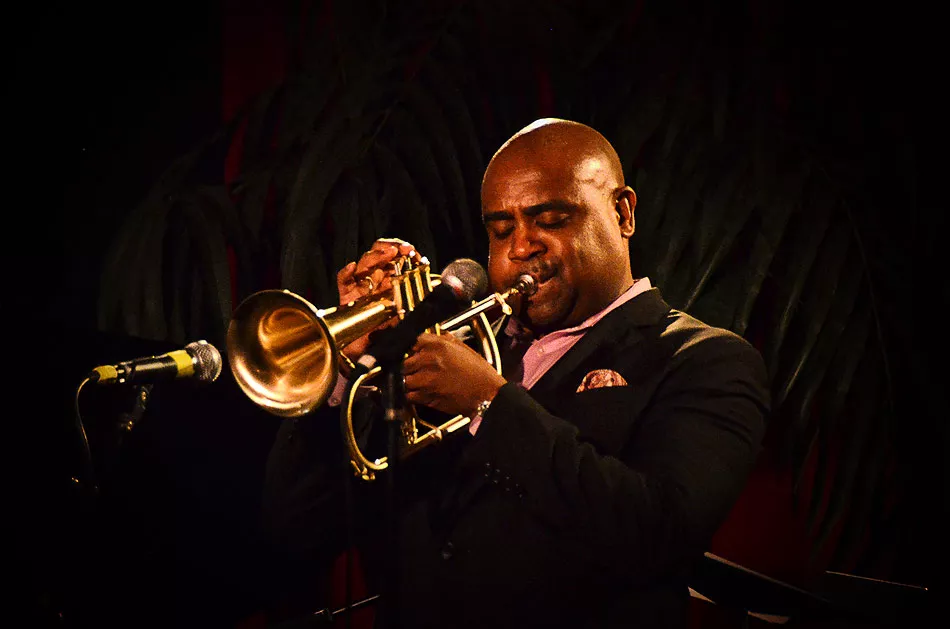 PHOTO BY MATT DETURCK
Terell Stafford performed Saturday, June 22 at the Montage Music Hall.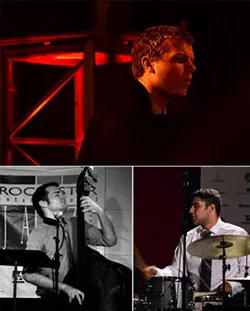 PHOTO BY MATT DETURCK
The other three members of Terell Stafford's quartet were musicians who had studied with him.
A little while later I found myself at the Montage watching Terell Stafford and had the following realization: trumpet is the most confrontational of instruments. While the piano usually faces the side of the stage and the saxophone is sending notes upward or to the ground, the trumpet is in your face. There's no sliding back and forth like the trombone. The trumpet says, "I'm talkin' to you!"
When Stafford is on the other side of that trumpet, the urgency is palpable. Whether he's playing a fiery up-tempo tune or wrapping his horn around a mid-tempo ballad like "Candy," Stafford is in command. He is no less a brilliant player when he switches to flugelhorn.
The other three members of Stafford's quartet were musicians who had studied with him at Temple University in Philadelphia, where he is coordinator of the jazz studies program. They were young but all three were capable of swinging hard and soloing with imagination.
I also caught Bruce Barth and Steve Nelson at Max of Eastman Place. (By the way, I apologize for mixing up Steve Nelson with Steve Wilson in City's Jazz Guide; Barth played with Wilson the last time he was at the festival.) Barth is a superb pianist and Nelson a great vibraphonist.
The concert dragged a bit during a slow blues number that I thought would never end. But both players came alive nicely during a suite of three tunes by Billy Strayhorn and Duke Ellington. Nelson played gorgeously on Strayhorn's "Chelsea Bridge."
I'll start tomorrow night with Cuban pianist Rafael Zaldivar at Max. Then I want to hear the unusual combination of instruments (harp, cello, harmonium, etc.) that make up the Christian Wallumrod Ensemble at the Lutheran Church. And I'll finish the night with the great home-grown big band that is the Dave Rivello Ensemble at the Xerox Auditorium.
Terell Stafford Quartet at Montage. VIDEO BY MATT DETURCK