I'm amazed -- even scared a little -- of the fragility of the path that led me to something I love. If I hadn't been someplace in particular at a particular time I never would have met so-and-so, or experienced such-and-such. Hell, I almost didn't meet my wife, and that would've sucked.
PHOTO BY FRANK DE BLASE
J Roddy Walston was part of the bill Friday, June 7, at CMAC.
So, on Friday night me and the toe-headed Pink Flamingess were taking our time getting to CMAC in the persistent drizzle. Opening bands weren't our concern; headliners The Lumineers were. If we had dragged our asses or hung out in the parking lot with the beer-helmet crowd we would have missed Richmond, Virginia's J Roddy Walston and the Business -- and that would've sucked, too. With a hint of N'awlins swagger and sweet heat, Walston and his ragged denim crew parked themselves in and around the other bands' gear and proceeded to slay the damp and shivering hipster dragon with some down-home, rough-and-raw rock 'n' roll.
Walston's voice was amazingly soulful but lacked the trappings of a soul-singer as he swept the piano keys with long hair and nimble fingers. And the band's grasp of classic strains was only bested by its equally impressive harnessing of its warm, crunchy tone. Kind of Allman Brothers, kind of Black Crowes -- or Black Oak Arkansas -- kind of Dr. John, kind of pretty great. I can't wait to see this band again.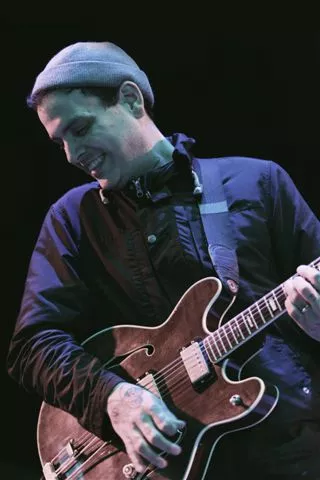 PHOTO BY FRANK DE BLASE
Cold War Kids performed Friday, June 7, at CMAC.
L.A.'s Cold War Kids followed. Short answer: they sucked. Long answer: they write very interesting tunes with a lot of dynamics and clever hooks, it's just the sound that sucked eggs. The bass was so subsonic and loud I almost shit myself. It completely drowned out everything else on stage. The audience seemed to enjoy hearing songs they recognized (when they could recognize them, I suppose), but I can't be the only one that was there plugging my ears and running for the porta-potty.
PHOTO BY FRANK DE BLASE
The Lumineers headlined the show Friday, June 7, at CMAC.
It's got to be The Lumineers' sincerity and lack of fanfare that has won the band its fans. Now, I'm not saying that rock concert pageantry is dead. But it is nice to hear and see a band that has perfected its music and lets the components of the old song and dance fall where they may. For instance, the band didn't hold on to its mega-hit "Ho Hey" until the end of the set, like you'd expect. And all the musicians on stage seemed to be playing for each other as much as for the packed CMAC shell.