In what both feels like a week that has flown by, but also managed to squeeze every last drop out of and packed a mini-lifetime into each day, I've reached the end of my first SXSW. It was a blast, and I already know I want to return next year, hopefully a little wiser (pack less clothes, bring spoons, and stay downtown close to the convention center). I'm pretty sure each day of SXSW takes a total of one year off my overall life span, but it's been worth it.
I was really gunning for my finale night of the festival as it included a lineup of some of my favorite musicians playing in the game right now. One of them, The Mighty Stef, just added shows in Austin, but sadly, they were out of the main scope of the festival by several miles, and nowhere near my hotel or the shuttle drop offs. That was my planned first band for the day, but with SXSW, sometime you got to roll with the punches.
The rest of the night was devoted to the Revival Tour stage, which had a killer line up of musicians on it. For those of you unfamiliar, the Revival Tour was started in 2008 by Chuck Ragan, and is a group effort acoustic tour that pulls in different artist every year. It's a rare treat in the music world; musicians will take turns playing each other's songs, there's no real headliner, and most importantly, it shows the camaraderie between the musicians themselves. The line up varies date by date (so make sure you know who is playing each one; mileage may vary) but the tour has really become a counter-culture community of great times and music.
First up (Well, after a quick few songs by the Revival Tour Ensemble) was San Diego's The Drowning Men. These guys are hit or miss with me, playing a fiery organ driven alt-rock deal that softly laps at you, just like the seas themselves. It's eerie and hauntingly melodic, and catchy, and the group has some really solid tracks, but its set focused on the slower side of its catalog tonight, and despite having the theremin present, never got to use it.
Willie Clark
Joywave performed as part of 2013's SXSW Music Festival.
Next up was Austin Lucas, who was one of the more country leaning names on the showcase. He had a very Nashville-esque voice, (via Indiana, his home state), pulling in that twang thang, and he had some compelling guitar riffs as well. At times there seemed to be an odd disconnect between his singing and the guitar parts though, but he kept mentioning that the guitar cable was phasing in and out, so it could have been that. He pulled out a slower song from an upcoming album (not sure the name of it) that was a real heart-string puller, and his songs creep up on you and hit you in the gut. I grabbed a CD to check out some more of his stuff.
Ring master, circus leader, and master of ceremonies for the Revival Tour, Chuck Ragan (Hot Water Music) tends to steal the Revival Tour shows for me personally, (at least he also did the last time the tour hit Rochester back in 2008, and I've been waiting to see it again since), and his gruff growling vocals combined with Jon Gaunt's fiddling and Joe Ginsberg's upright bass create a great folk punk trio that has put out some truly great albums the past few years. When Ragan sweats, it's bullets of passion running down his face, Some sound problems with the violin threw off a note run or two, and it wasn't the best set I've seen Ragan and co. perform, but it's still a good time.
I then ran over to catch a few songs from Rochester's own Joywave. Big props to the boys for getting down to SXSW this year (the only Rochester act to do so as far as I know), and for pulling in quite a crowd as well. Equipment problems seem to be the theme of the day though, as the band had to mess with mics that weren't working, causing its set to start behind schedule. Now, the dance pop that Joywave brings to the table is far, far from my normal cup of tea, so it wasn't really my thing and didn't win me over, but apparently enough people are drinking it up to bring them this far, and it's great for Rochester's scene to see a local band getting national exposure at a festival of this scope, and pull in crowds half way across the country. Good for them.
Then it was back to Cedar Street to catch who is possibly one of my favorite musicians making music right now: London, England's Frank Turner. Similarly to a lot of the guys on the Revival Tour bill, Turner got his start in the English punk band Million Dead before going down the solo folk punk road, and it feels like he hasn't stopped touring or putting out albums since.
Now, Turner started his portion of the evening apologizing, and giving excuses for what he was prepping to be a less than perfect performance: He's been sick all week and was already really drunk, and you could hear the tiredness, and coarseness, in his voice (He even missed of a few of his own lyrics, and ended up pulling out mostly covers).
It fit with the spirit of the evening, but, I was disappointed because this was one of several of Turner's appearances at SXSW, and I had saved him for last, thinking it would be the full band. Not that there's anything wrong with just Turner, it's just a different show: A solo musician playing slower, stripped down, and more intimate versions of his songs, as opposed to the explosive rock show he puts on with the Sleeping Souls. So I was disappointed on that front, even if it was a nice opportunity to see Turner back to his roots as a solo artist.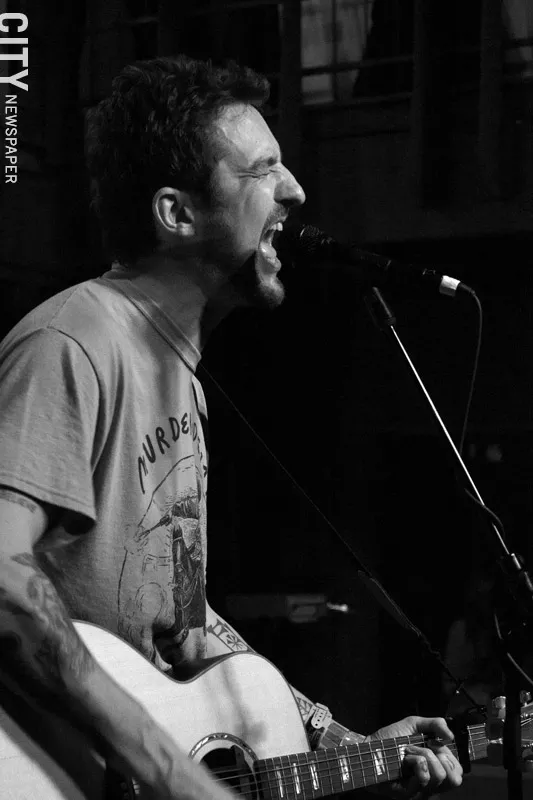 Willie Clark
Frank Turner performed as part of 2013's SXSW Music Festival.
But, if you haven't listened to Frank Turner, you should. I staked my professional reputation on him years ago, and since then he's played the opening ceremony for the Olympics and headlined the massive Wembley Stadium in London, so I guess I get to keep my job, and he's earned one night of drunken laid back fun, to say the least.
After Turner's set the whole Revival Tour ensemble returned to stage for a few more songs and the customary closing with "Revival Road." I got goosebumps just seeing such a cross work of musicians on stage, all having a good time, and playing music with each other just for the love of it. Which really, is the way that it should always be, isn't it?