Wednesday at South by Southwest, for all intents and purposes, was all about the D.
After a late start to the morning, some brunch at a food-truck gathering, and a refresher nap at the convention center, it was time to cross off my bucket list a band I've been waiting what seems like eons to see: the mighty Tenacious D.
Of course, the D's set overlapped with a slew of other bands I'm hoping to hit later at the festival, and that's the toss up when it comes to giant festivals like SXSW; it means I missed a slew of bands I'm going to try to hit later this week. But I mean, come on. I can't say no to Tenacious D.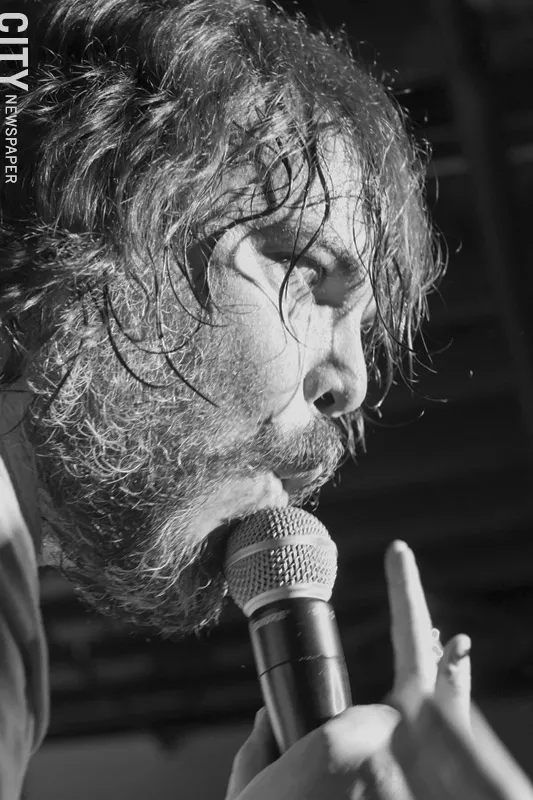 BY WILLIE CLARK
Jack Black performed as comedy-rock duo Tenacious D Wednesday, March 13, at the South by Southwest music festival in Austin, Texas.
Jack Black and co-pilot for the D, Kyle Gass, were in town to help promote the upcoming Yahoo! Web comedy series "Ghost Ghirls," which Black executive produced. The screening party showed off two episodes of the series, which stars Amanda Lund and Maria Blasucci as naive, yet quirky, ghost hunters who are called upon to solve various supernatural crimes and investigate paranormal activity. I've often wondered why, with the slew of crime procedurals TV pushes out, we've never really seen a crime comedy series (think of what "Scrubs" did to the medical drama), and "Ghost Ghirls" has some solid laughs (and a star-studded cameo list: Molly Shannon, Jason Schwartzman, Dave Grohl, and Black himself). The series will be released online through Yahoo! Screen later this summer.
After a brief discussion panel on the series with Black, Lund, Blasucci, and director Jeremy Konner (of "Drunk History" fame), the stage cleared for the dynamic duo itself. I can't pinpoint exactly when my young mind was warped and I started listening to Tenacious D, but I know that I have my older cousin to thank for passing me to the ways of the lewd and crude greatest satirical band of all time. For years I have been looking forward to finally getting a chance to see the magic live. Black and Gass have also been out touring again just as a duo (sans a full backing band), but that's always how I felt would be best to experience the D.
Disappointingly, Black seemed tired and worn out -- he even mentioned as much -- as soon as the set started, and it took awhile for him to warm up and really fall into the Jables state of mind. That's saying a lot, given his normally large and over-the-top persona. He's an amazing vocalist (and Gass is one hell of a guitar player), but Black seemed to shy away from holding some of the longer and more impressive note runs until later in the set. Given the whole just-the-two-of-them vibe, the first half of the set felt a little more subdued, and the music was at a slower clip than I would have expected. The D still puts on a mighty show, and classics like "Tribute," "Double Team," and "FHG," which finished off the night, were still amazing. But I felt that the show probably wasn't as full of all the rock juice that the duo normally secretes.
I rallied to catch San Antonio, Texas-based group Piñata Protest, which I had missed earlier in the afternoon, and was glad I managed to see the band. The accordion may not be the sexiest instrument, but this squeezebox-fronted punk band sure makes a case for the instrument. Loud and fast guitar, drums, and bass filled out the sound underneath the reedy accordion, and at the end of the day there just aren't that many punk bands with accordions in them. Piñata Protest is really on to something here.
Even if some of its set was in Spanish and I couldn't understand it (and my high school Spanish teacher may hang her head in shame), the musical energy and enthusiasm was universal. Cowboy boots, a cowboy hat, and some rocking Tex-Mex Spanish punk tunes?Doesn't get much more Texan than that, even if the group couldn't resist throwing "La Cucaracha" in at least once.