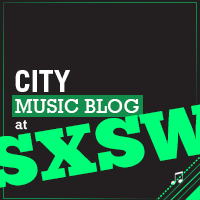 South by Southwest, one of the largest music festivals in the world, comes to Austin, Texas, for its 27th edition this week. And this year, City readers are getting in on the action. Yours truly - Willie Clark, City's music editor, will be there, bringing you the best (and the worst) of the shows, the music, and the random revelry that comes together when a professional music-industry meet-and-greet erupts into myriad band concerts and events.
Day 1 in Austin was already jam packed. I've ridden in a "Game of Thrones"-inspired pedicab , stumbled upon a free Yahoo party, nearly killed my digestive tract in a nuclear-taco-eating contest (but won a bag of chips and salsa for the pain), and still rallied to catch some of Passion Pit's set (the act was much more active than its more subdued set at the Armory last month). And that's all just night one; the music convention proper kicks off tonight, March 12.
But it's not all fun and games and tacos. Day programming brings together music panels featuring everyone from 50 Cent to Deadmau5, with a keynote address by Dave Grohl. And between the official showcases, unofficial parties, and random surprises, there are a lot of names, both big and small, in the music world hitting Austin this week. There are a lot of groups to dig through, some big names, lots of small names. But I'm going to try to bring you a mix, while focusing on the smaller acts you may not have heard about. I mean, do you really need my thoughts on Justin Timberlake? Probably not, but there are a lot of other bands here that nobody's heard of that are probably just as interesting to know about.
So take a look at the list of participating bands and let me know who you think I should check out. I'm here to deliver the best of SXSW 2013 to you all, so let me know if there are acts you really want me to try to schedule in. Until tomorrow!