Charles Mingus occupies a special place in the pantheon of true jazz visionaries. A brilliant composer capable of orchestral majesty, he never strayed far from the vernacular musical vocabulary at the root of jazz. No matter how tight the horns are, the rawness of the African American experience always comes through. The full spectrum of his talent is amply on display in the new 10-disc box set from Legacy. The set not only covers Mingus' most prolific period, the late 1950s and early 1960s, it also includes some of his greatest albums: "Mingus Ah Um," "Mingus Dynasty" and "Let My Children Hear Music."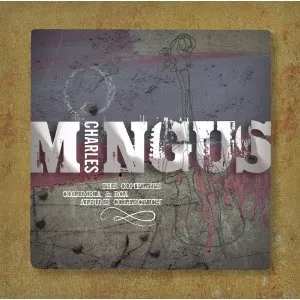 Many of Mingus' greatest and most familiar compositions are here, and we are provided with new insights into them thanks to an excellent essay by Mingus' widow, Sue Mingus. For instance "Better Git It In Your Soul" was originally "Better Get a Hit In Your Soul," as in a "hit" of heroin. And it's common knowledge that "Fables of Faubus" was written in protest of the racist governor of Arkansas at the time, Orville Faubus, but I didn't know that Mingus had written lyrics (calling the governor a nazi, among other things) that Columbia Records would not allow him to include on the album.
The box set contains two CDs of alternate takes and, although Sue Mingus acknowledges they might be of interest to collectors, she writes that she fought the inclusion of material that Mingus considered unworthy of release. The late Teo Macero, who produced many of these tracks, probably would have agreed with her. He was upset with Columbia Legacy when they resurrected his discards from classic Miles Davis records and released them.
Also included here are two invaluable live recordings. The first is "Charles Mingus And Friends In Concert," a flawed but still wonderful performance recorded at LincolnCenter in 1972. The 23 "friends" include Gerry Mulligan, Lee Konitz and Gene Ammons on sax, James Moody on flute and Randy Weston on piano, Dizzy Gillespie, vocals and Bill Cosby as MC. I thought I knew Mingus well but there were revelations here like the great rendition of his "Ecclusiastics."
The second, "Mingus Epitaph," recorded at LincolnCenter in 1989, 10 years after Mingus' death, is the result of a decades-in-the-making commission by Gunther Schuller, who pieced together and conducted the work. To do so, Schuller employed a dream team of 29 musicians, including Wynton Marsalis and Randy Brecker among the six trumpets, George Adams and Bobby Watson among the saxophonists, and Roland Hanna and John Hicks on piano, to name a few.
Needless to say, there are gems at every turn. Among them is "Non-sectarian Blues," the only known collaboration between Mingus and Dave Brubeck. In a fascinating, apparently improvised duel between the master of earthiness and the king of chamber jazz, Mingus's bass riffs and shouts seem to spur Brubeck into a little wildness of his own.