I got to 94.1 The Zone's annual Bonzai Fest Saturday at the Highland Bowl just in time to catch the back half of the set by Walk The Moon. It was a little on the poppier side of life than I tend to dance on, but was catchy nonetheless. That band was followed by Eve 6, which is one of those bands that falls into my "meh" band category. I wasn't an Eve 6 fan before its set, and still wasn't a fan after. To me it was just middle-ground American rock.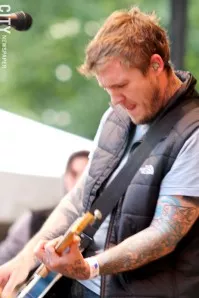 Gaslight Anthem played the Bonzai Fest at Highland Bowl on Saturday, July 28. PHOTO BY WILLIE CLARK
Then came the main attraction for me, New Jersey's The Gaslight Anthem. The group just put out a new record, and though I wasn't entirely blown away by it, the new songs fit in very well with the band's set at Bonzai. I'm always amazed at how precise this band is live, and how much its concerts sound like near replications of its records -- and that's a good thing. I was a little surprised that the group kept pulling out slow songs for a festival set, and given it wasn't a headlining slot and it seemed like many in the crowd weren't familiar with the band, going with the fast and in-your-face may have been the smarter route. Either way, Gaslight ended with a rousing, raucous, and respectful cover of "Baba O'Riley" which was nearly worth heading out just by itself.
Our Lady of Peace went up next. At first I was somewhat intrigued: the music teetered on stadium-pop-rock jams, with slow and steady vocal lines over the powerful clash of guitar, drums, and bass. (There were keys in the mix, too, but bless anybody if they could hear them -- I couldn't.) But the longer the group went on, the less it kept my interest, and things started to blend together song after song. Part of the problem was the lead singer's overreliance on a megaphone. There is never any excuse to use a megaphone on stage during a concert, ever.
I can't remember the last time I listened to any of its music, but The Offspring was the band that most surprised me. The California pop-punk band put on one sweaty, fast, and furious set, the kind of pure powerful take-no-prisoners rock that you just don't see much anymore, including staples such as "Hit That " and of course "Pretty Fly (For a White Guy)." The prerecorded clips that played between songs were a little corny, and the expansive lighting rigs, strobe lights, and enormous lighted logo were over the top. But if you can bring the rock as much as The Offspring did, some pageantry is justified. When I first saw the bill I was suspicious of the festival bringing the band in as headliners. But that set not only managed to quell my fears, it quashed them with a hard-hitting and mosh-pit inspiring good time. And you can't go wrong with that.