Started off entirely on the jazz tip tonight as I took in The Bridge Trio at Max of Eastman Place. The group was impressively tight and impeccably dressed as it ventured in and out of the riffs and shapes each musician created. It was righteously crisp and quite cool.
Headed over to the East and Chestnut stage to get down with The Po' Boys Brass Band as the band got down with a fresh line-up. Man, these guys were funkified, with an amped-up emphasis on vocal call and response with the increasingly frenzied crowd. And when I say funky, I mean funkier than a port-a-potty at a chili cook-off. The band played, jaws dropped, eyeballs bugged, and hips went back and forth in a bodacious blur to the Po' Boys' brass balls and groove.
Norah Jones has the prettiest voice, and she sings with a storied innocence over her gentle pop. Kodak Hall was packed to the walls with fans of the chanteuse. Many in the crowd recalled Jones' show here at Jazz Fest No. 1, when she played at Max. The problem with that trip down memory lane is, it's kind of like those who remember being at Woodstock . There are tons more people that brag about it compared with the amount who were actually there. Anyhow, I was there -- last night, anyway -- to hear Jones' sensuous noir. Her voice lilted and floated like the flock of origami birds flying over the stage. Her gentle nonchalance remained throughout, even when she picked up the guitar to add some sinister tremolo twang. I could have used more of that, honestly. I mean, her new album cover is an homage to Russ Meyer, which indicated to me that perhaps she was heading in a raunchier direction. That I would have dug deep, if she'd gone for it with her terrific band. By the way, you really should have seen her red shoes.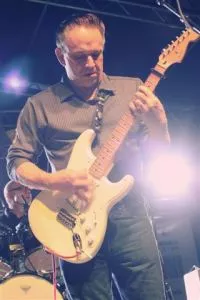 Jimmie Vaughan played Friday, June 29. PHOTO BY FRANK DE BLASE
I would've stayed longer to await the arrival of the devil in Miss Jones, but one of my all-time guitar heroes, Jimmie Vaughan and the Tilt-A-Whirl Band, was playing the East and Chestnut stage. The band --which includes ex-Fabulous Thunderbirds, Little Charlie and the Nightcats' bassist Ronnie James, and ex-Useless Playboys guitarist Billy Pitman -- delivered a two-hour haymaker punch full of swingin' blues and Vaughan 's signature ducktails and Texas twang. He brought along blues belter Lou Ann Barton for added thrills, and she sang with mucho seasoned reserve and moxie. The overall sound was in the swing vein -- a hot-ass horn section will veer you in that direction -- with a generous dose of the blues. It was awesome.
Saturday night I can't wait to see the Sadies; it's gonna be a bloodbath. Where are you headed for the final night of the fest?
Looking for more of City's Jazz Fest coverage? Click here for City's 2012 Jazz Fest Guide, click here for our Jazz Blog landing page, or Like City on Facebook or follow us on Twitter @roccitynews.