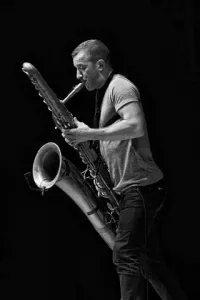 Colin Stetson performed Thursday, June 28, at Kilbourn Hall. PHOTO BY FRANK DE BLASE
It can be somewhat difficult to consider your parents as human beings, as individuals with hopes and dreams and desires of their own. Well, as uncomfortable as it may sound, I watched my mother fall in love with bass saxophonist Colin Stetson Thursday night. Stetson is one of those acts at this year's Jazz Fest that paid off for those who took the chance. His association with Tom Waits made my mind up in a hurry, and suggested an evening of non-conformist, antagonistic glee. I know I'm onto something whenever there's an exodus for the door after the first tune.
Stetson took to the Kilbourn Hall stage silently, strapped on his bass saxophone -- or rather strapped himself to it. It's an instrument so big that it needs license plates, and emits a tone so big and hellacious and hypnotic that it threatened to replace the air in Kilbourn Hall. The valves were so big on this behemoth that they added an audible tap and rhythm to the multi-octave madness, the looped tones and occasional shouts.
It was hard to decipher how Stetson created this cacophony, and what actually came first in his parade of tones as it swirled big and bad toward its climax. Best club show yet. I think I saw mom slip him her phone number.
Caught a bit of Ruthie Foster and The Family Band's second set at the Harro East Ballroom. Foster sings strong and soulful, and she has a broad, mainstream appeal. The audience ate her up. She was good. And that's the problem. With artists like Colin Stetson flipping my wig, the bar has been raised. Sometimes good just don't cut it. This year's line-up has turned me into a spoiled brat.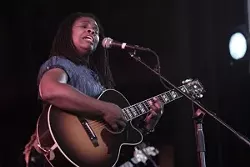 Ruthie Foster performed Thursday, June 28, at Harro East Ballroom. PHOTO BY FRANK DE BLASE
I said the other night that steel guitar was like catsup; it's good on everything. Well apparently Daryl Hall feels the same way about reverb as the entire mix for his show at Kodak Hall sounded as if it were mixed by The Ventures. His band was tight, particularly in the vocal department. Hall raged and raved with his blue-eyed soul. But I've got to say, the night belonged to Keb' Mo', whose succinct guitar playing and singing (picture a young, skinnier Lou Rawls) came off casual and cool while splashing in Lake Reverb.
Pokey LaFarge performed Thursday, June 28, at Abilene. PHOTO BY FRANK DE BLASE
I was especially looking forward to St. Louis' Pokey LaFarge & the South City Three, and the band didn't disappoint me, or what appeared to be the biggest -- and most rabid -- crowd in the Abilene tent so far. The group's aw-shucks, Mayberry shtick was genre-appropriate and didn't get in the way of the band's old-timey gramophone strain. I mean, they had 78s for sale and everything. It was Tin Pan Alley with hints of Western swing and gypsy jazz. I would almost say it was the best night so far, but I'm going to see one of my all-time favorite guitar players, Jimmie Vaughan, tonight.