Perhaps it was his comedic timing and wit, or maybe it was his genuine charm. Or maybe it was his crisp blue suit. But wait...could it have been the bluegrass? Steve Martin and the Steep Canyon Rangers put on a simply amazing show full of humor and instrumental dexterity. And both the laughs and musical prowess helped to give the sold-out Kodak Hall crowd at the band's Wednesday matinee a crash course in bluegrass.
Steve Martin played Kodak Hall on Wednesday, June 27. PHOTO BY FRANK DE BLASE
Now, purists may balk, and I'm inclined to agree somewhat, but Martin and the band ("They're not my band, I'm their celebrity," Martin explained) played music beyond bluegrass. I credit Martin's compositions, as he interjected a little more melody than the genre typically offers. That was tied together with the smoothly (and sometimes savagely) bowed strokes of fiddle player Nicky Sanders sawing away amidst the rest of the band's percussive plunk and twank. In addition, the band's use of minor keys gave it all a melancholy luster and appeal.
Martin's between-song banter was hilarious and, frankly, I didn't want the show to end. I know, I know; a little bit of bluegrass goes a long way. Yet I -- Mr. Give-me-an-old-Gibson-through-a-Deluxe-Reverb-turned-up-to-10-any-day -- didn't want this to end.
But it did, so I popped in to check Eastman gradShiranthaBeddage's Quintet at Max of Eastman Place where his tone got me thinking. If you're not around when a note is first struck, strummed, tapped, blown, or sung, you may not be able to tell its instrument of origin. If they had been played without their breathy, tell-tale launch, the notes coming from Beddage's baritone sax had hints of bowed notes and traces of a human voice. I don't know, maybe I'm explaining it wrong.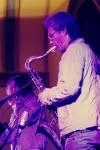 Ffear played the Lutheran Church of the Reformation on Wednesday, June 27. PHOTO BY FRANK DE BLASE
A lot of this esoteric pondering happens in the presence of more exploratory ensembles likeFfear, which played Wednesday at the Lutheran Church, where the group shifted gears between time signatures at least half a dozen times...in the first tune. By the time you latched onto the piece's progression and intention, Ffear was onto its next rhythmic boondoggle. Even so, the band was fun and very listenable.
I finished the night rocked in the conventional arms of Yvette Landry's sturdy honky-tonkin' country at Abilene. And man, what a smile. The lady and her band rocked steady with frequent blasts of slip-slidin' twang from her amazing steel player. Steel guitar is like catsup; it's good on everything.
Yvette Landry played Abilene on Wednesday, June 27. PHOTO BY FRANK DE BLASE
On Thursday night I'm looking forward to watching Colin Stetson get buck-weird with the bass sax, along with other jazzy, jivey delights. What are you planning to see?
Looking for more of City's Jazz Fest coverage? Click here for City's 2012 Jazz Fest Guide, click here for our Jazz Blog landing page, or Like City on Facebook or follow us on Twitter @roccitynews.