If there's a shortcut to my musical heart, it lies with the Celtic-leaning instruments: the fiddle, the banjo, the accordion. They aren't often seen in jazz music, but one act Wednesday night took that shortcut and ran down the path.
Bill Evans Soulgrass exists in a magical place where the roads to many different styles of music cross, mingle, and set up camp and hang out for a while, resulting in a sound featuring parts jazz, bluegrass, funk, blues, and some good ol' rock and roll. Oh, and it has a banjo (which could have been turned up a bit, I hasten to note).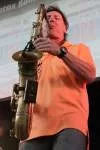 Breaking the pieces apart, I wasn't entirely sure how well the set-up would work as a whole, cohesive unit. The electric guitar solos would not have been out of place at a stadium-rock concert, the banjo twanging was right out of Americana, the vocals veered between rock and roll and sultry blues, and the sax playing was everything here, there, and in-between.
But, the moment that really defined the early show at Harro East was the duet played between Evans and his banjo player. It was a raging onslaught of plucked strings and blown air that created my single standout moment of the festival so far. Evans said that the song, "Katie Hill," tended to piss off both the bluegrass and jazz crowds, as neither would consider this rendition a pure form of either genre of music. That didn't matter, as it was awesome, and did everything but piss off this reviewer. Purists be damned.
Now, if a banjo is a surefire way to enter my heart, the opposite can be said of the baritone sax. As a tuba player I've always had a long-running rivalry between that certain woodwind instrument that also plays low notes.
But, even still, I went to check out the Shirantha Beddage Quartet at Max of Eastman Place. Beddage actually used to go to school at Eastman and work at the RIJF, so it was cool seeing somebody who had worked their way up back playing at the festival. I was a little disappointed that Beddage spent most of his time playing the bari sax like it was an alto sax, though. Sure, it goes to prove that a great bari player can play anything that a great alto player can play, but it didn't really take advantage of the lower register like I would have hoped. I would have liked to have seen a little of that low-down honking ,if you know what I mean.
The Shirantha Beddage Quartet played Wednesday, June 27, at Max of Eastman Place. PHOTO BY WILLIE CLARK
Last but not least I swung by the Fusion stage to check out Russell Scarborough Soul Jazz Big Band. The group read like a Who's Who of Rochester musicians, and it was great to be reminded during the festival of all the musical talent that you can see in town year round. The group was exceptionally tight and bright. The group kept things in check, though, staying a little on the mellower side of swing, and I wish I could have caught a few more of Scarborough's original compositions. The featured solo work stood out the most, including the great saxophonist Bill Tiberio, who is always a treat, and a trumpet solo by a name that I just missed catching.
The week may be winding down, but the festival isn't. Thursday night I've got Terje Rypdal & Bergen Big Band, Barrel House Blues Band, and Dwayne Dopsie & Zydeco Hellraisers. Looking forward to a little blues and hell raising myself. Where are you planning to go Thursday night?
Looking for more of City's Jazz Fest coverage? Click here for City's 2012 Jazz Fest Guide, click here for our Jazz Blog landing page, or Like City on Facebook or follow us on Twitter @roccitynews.