It's rare that I'll chance missing a lot of groovy new stuff I've never heard and instead stick around to see an artist's second set. But I really had no choice; Kim Lenz had us wrapped around her finger so tight that by the time she and her band, The Jaguars, were done, we all looked like stretched-out Slinkys on the dance floor. Lenz and her band absolutely rocked Abilene Monday night with pure, uncut, unfiltered, unadulterated, undulating rockabilly. You can lay a lot of the blame on the flame-haired Lenz's Janis Martin-fueled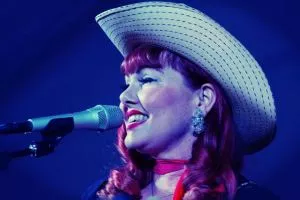 Kim Lenz played Monday, June 25, at Abilene. PHOTO BY WILLIE CLARK
voice, which went from contralto growl to she-wolf howl to croonin' and swoonin' with heartbreakers like a beautiful rendition of "Tennessee Waltz." The rest of the blame lies with Lenz's excellent trio, which rocked like a hillbilly version of the Blue Caps. Both shows were full-tilt, full-bore wingdings. Beer was drunk, some rug was cut, and I was knocked out.
Teagan and the Tweeds played Monday, June 25, at the RG&E Fusion Stage. PHOTO BY WILLIE CLARK
I caught Teagan and The Tweeds at the RG&E tent for the band's early set. I enjoyed watching the crowd get off on the band. It occurred to me as I watched the group plow through an audience of first-timers, that this is one diverse band -- nobody matches. And yet the sound is as awesome as it is diverse, all tied together with The Tweeds' shared energy. Teagan and The Tweeds are big, bluesy, ballsy, and bad-ass. It's real rock 'n' roll. You remember rock 'n' roll, don't you? It figures it would take a jazz festival to remind us.
Tuesday night I'm going to big band it with The Jack Allen Big Band before seeing Dweezil Zappa at Kodak Hall. I'll be holding out for "Titties and Beer." What do you want to hear, sluggo?
Looking for more of City's Jazz Fest coverage? Click here for City's 2012 Jazz Fest Guide, click here for our Jazz Blog landing page, or Like City on Facebook or follow us on Twitter @roccitynews.