Certain guitars beg to be played certain ways. A Gibson J-200 wants to be strummed, while a Les Paul is there to reward your efforts with miles of sustain. You pick up a Gretsch 6120, and you can practically hear it say, "Chicken pick me, fool."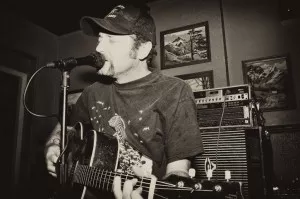 Scott Biram performed at Abilene on Wednesday, June 13. PHOTO BY FRANK DE BLASE
So when Bloodshot beauty Lydia Loveless took to the Abilene floor on Wednesday, June 13, and strapped on an old Gibson ES-125, I expected some rootsy, bluesy thump and twang; some rural plank-spank. Instead, this abbreviated young lady standing stock-still and statuesque in high heels strummed the hell out of the thing as she sang gentle and urgent. Her upright bass-slapper was a torrent of hair and percussive bottom end, and the duo struck me a lot like Lone Justice or The Del Fuegos -- two roots-rock acts from the 1980's that got filed under punk because Americana hadn't been invented yet. Loveless was captivatingly cool, though her lyrics got plowed under a bit by the loud mix in the tiny room.
Headliner Scott Biram, on the other hand, was heard loud and clear as he howled his homicidal blues through a megaphone and a mic to a by-then-packed house. The man makes crazy a viable option. The set was full-bore, four-on-the-floor rock 'n' roll.
Moho Collective was doing the load-out mambo when I walked into Sticky Lip's Juke Joint Friday night. The joint was jumping and kept up a steady bob and bounce during Subsoil's substrata-shaking hip-hop jams. MCs Mooney and Laz are a thrill to watch as they mug and exaggerate the lyrics like they're in a hip-hop soap opera. I know: we could call it "Days of our Rhymes" or "As the Word Turns." Roots Collider (High Times Magazine's unsigned band of the month) closed out the night, opening its set uncharacteristically slow but still with its trademark weight. Soon it was up to light speed and the dance floor responded in kind. This band can melt your face.