**NOTE: City's original story on "Wall/Therapy" can be found here. Our previous update can be found here.**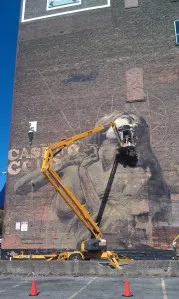 "Wall\Therapy" progress: South African artist Faith47 working on her second mural, which is located on the Michael Stern Building on Pleasant Street in the St. Paul Quarter. PHOTO BY REBECCA RAFFERTY
As the week wraps up, many murals for this year's "Wall/Therapy" project are finished, some are getting closer to completion, and the artists who have stayed in town are beginning new ones.
Manhattan-based twin How & Nosm departed on Tuesday, and Spanish artist Liqen left on Wednesday morning. Rochester artist Mr. Prvrt began a bonus piece today in the Public Market (go find it!), South African artist DALeast began a new kinetic work in the St. Paul Quarter that is visible from a lot across Pleasant Street from where his wife, Faith47, is working on a large piece. Brooklyn-based artist Cern and Siloette, of San Franciso, continue their work side-by-side at the RecCenter at 200 Avenue D.
German artist Case began a new piece based on the Kodak Girl photograph by renowned street-art photographer Martha Cooper on Lake Avenue near Kodak itself. Rochester artist Thievin' Stephen's minotaur on Pennsylvania Avenue nears completion, and he will begin a second mural this weekend. St. Monci, also of Rochester, continues his progress at Roc Brewing Co. at 56 S. Union St. While you're checking it out, don't miss the show of work by the three local artists inside Roc Brewing.
During my documentation of this project, most visitors who came to view Case's image of a swimmer and a mermaid on Pennsylvania Avenue appreciated the lovely ladies, while some asked enthusiastically or uncomfortably if they were lesbians, presumably because one of the gals is embracing the other.
Belgian artist ROA started receiving similar questions from viewers when his mural of a pile of snoozing bears began to take shape on the wall facing the lot of World Wide News at 100 St. Paul St. Many people have suggested or insisted that the bears are engaged in a sexual act because they are lying on top of one another, facing opposite directions. But the faces aren't positioned correctly for the insinuation to be true. Close, but no cigar. It's provided an interesting look at Americans' knee-jerk tendencies to finish a picture (and also exposes some peoples' cases of sex on the brains), but ROA told me he's observed it as Western Culture thing, not just American.
Here's some context:ROA's body of work is rife with fuzzy animals lying in piles together, or silhouettes of beasts with bone or vascular structures revealed. As "Wall\Therapy" is a project of Synthesis Collaborative, which deals in x-ray imaging, ROA considered making one of his bones-revealed works for Rochester, but when he met the neighborhood, he said, he wanted to make something that was "a little sweeter," and decided upon the cuddling bears.
Belgian artist ROA's mural for "Wall\Therapy" is almost finished on the building facing the World Wide News lot at 100 St. Paul Street. PHOTO BY REBECCA RAFFERTY
Back to Case: his mural is finished and includes what he has told us is an untranslatable German phrase that means several things, but the gist seems to be that "success hangs on courage." The meaning of the gorgeous imagery is altered for me by this phrase. The swimmer clinging to the mermaid is perhaps embracing the courageous side of herself, embodied by someone who dwells comfortably in the uncharted depths.
It has been such a gift to witness people from different parts of this city looking at art together, discussing it together. There is sometimes a palpable hesitation on both sides of each interaction. The addition of this artwork to city neighborhoods won't magically solve any problems, but it's starting something necessary, moments at a time.
Many of the artists will work through the weekend, weather permitting, and depart Sunday or Monday. Follow us on Twitter at @roccitynews for more updates and photographs of the progress.