RIT's School of Design announced Wednesday that office furniture and supply firm Poppin is the industry partner that participating students will collaborate with for this year's Metaproject. The class of 22 senior ID students gathered in University Gallery for the reveal, buzzing nervously and making guesses at what type of product they would be asked to create.
Now in its sixth year, Metaproject is an elective design studio course offered to seniors in RIT's Industrial Design program, which sees students work in collaboration with a different industry partner each year. The students are asked to design a product that solves a specific problem or works within a set of parameters, and work toward this goal throughout the semester.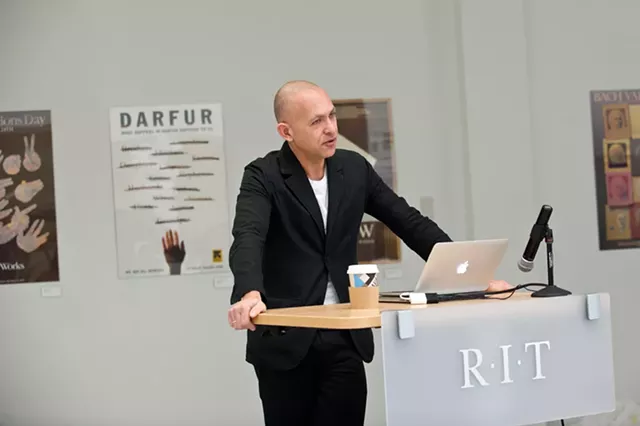 PHOTO COURTESY A. SUE WEISLER/RIT
Professor Josh Owen introduces design firm Poppin as this year's Metaproject industry partner.
The course offers the students a taste of real-world experience, connections with design professionals, and the possibility of having their design put into production.
This year, the design topic is "Work Happy," which is also Poppin's slogan. The students are tasked with designing "innovative accessories for Poppin's furniture that accent, improve, or add to their use," says professor Josh Owen, who developed Metaproject and leads the course.
Suggested areas of exploration include -- but are not limited to -- storage, organization, desktop real estate, cable management, power accessibility, comfort, privacy, and sound isolation.
While designing, students must take into account certain trends in modern offices that present challenges. These include shrinking or shared work spaces as companies grow in number of workers but not square footage, the need for privacy (for meetings or phone calls) in open-plan offices, and the increasing popularity of standing at elevated desks rather than sitting.
The materials, technologies, and processes that students will use to create their finished products are part of the plan they'll have to come up with, Owen says, and they will have to match the manufacturer's abilities and goals.
In addition to the industry partner and project reveal, the students watched a presentation by Poppin professionals that introduced them to the company's philosophy and aesthetics.
Poppin creates simple, elegant, and elemental products that "eschew unnecessary details," says Jeff Miller, Poppin's VP of product design. The company is also known for offering nearly every product, from stapler to filing cabinet, in every hue from its bright, cheerful color palette.
Students then got a hands-on look at select Poppin products that will remain on hand throughout the semester for reference. These include the company's Series A Double Desks formed into a long conference table, Max Task office chairs, and Limber LED Task Lamps.
PHOTO COURTESY A. SUE WEISLER/RIT
Poppin's VP of product design, Jeff Miller, explains the company's philosophy and aesthetics to RIT Industrial Design students.
Past Metaprojects had students partner with Wilsonart, The Corning Museum of Glass, Areaware, Herman Miller, and last year, with both Kikkerland and Bed Bath & Beyond.
Through Metaproject, students make contacts in some of the most prestigious design-based companies in the world, and have the opportunity to exhibit their products each May during Design Week in New York City.
Metaproject is an interdisciplinary assignment -- as part of this project, Industrial Design students will team up with professor Adam Smith's New Media Design students to develop an experience around the ID projects that will be part of the product showcase in New York City.
Past students have designed products some companies have taken into production. For example: James Paulius's 2013 design for Metaproject 03 (in collaboration with world-renowned avant-garde accessories manufacturer, Areaware). Paulius's "Blockitecture" subsequently went into mass production, and is available at the MoMA gift shop. He has since created a second iteration, Blockitecture Garden City.
"James' career has really been kickstarted by this Metaproject," Owen says.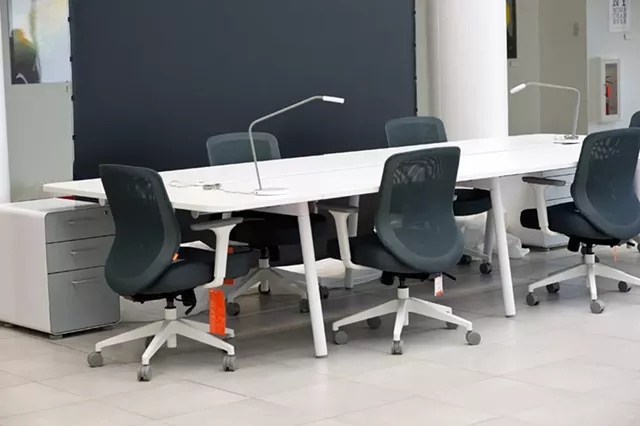 PHOTO COURTESY A. SUE WEISLER/RIT
Some of Poppin's office furniture is on hand for Industrial Design students to explore and consider.
About 14 weeks remain in the semester, and students will work on projects for about 12 of those weeks. The last couple of weeks will be spent on judging the products to determine which ideas will be polished up and brought to New York City.
"Winning design concepts will be chosen for their ingenuity, usefulness, aesthetic refinement, and coherence within the rest of Poppin's product assortment." Owen says.
The kick-off of Metaproject 06 follows on the tails of the third annual T-minus, a one-week project challenge the ID department undertook last week. Learn more about T-minus here.
The students will continue work on Metaproject 06 through the end of the semester. City will follow up on this story and their projects a bit down the line. Watch RIT's video about the Metaproject 06 reveal here. To learn more about Metaproject, visit metaproject.rit.edu.